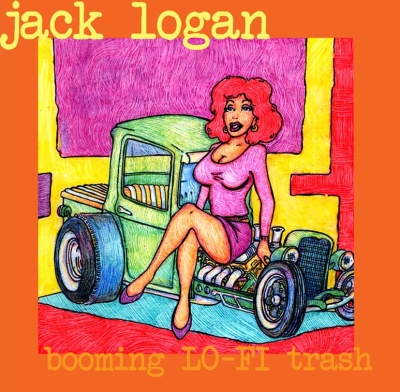 Although Jack Logan is taking a break from recording things for a while he's managed to tide his fans over by providing two mp3 albums. The first one I reported on earlier this month was a live chestnut from his days in Liquor Cabinet. This week he provides us with an album of 4-track recordings he made "earlier this year" in his words titled whimsically enough Booming Lo-Fi Trash. While Randy Jackson might accuse Jack of being "pitchy", Booming is 14 tracks of pure Lo-Fi Jack action, some tracks introspective, some tracks telling stories of the human condition with a dash of humor.
The cover art is classic Jack automobilia– Fifties custom with cheater slicks and tuck and roll decorated with a busty redhead perched on a valve cover of the V8.
Recommended if you like: Guided By Voices, Sebadoh, Mopar or racing for pinks.
Click Here to Download Booming Lo-Fi Trash from Sendspace
Click Here to visit Jack Logan's CafePress Art Shop