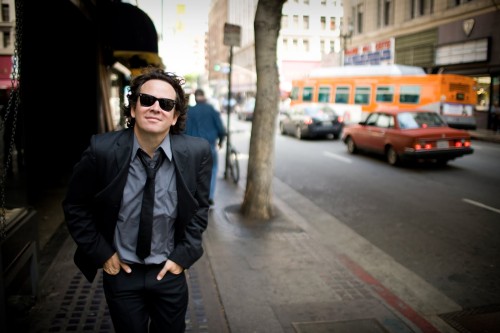 I think it must have been a compilation CD that came with CMJ Magazine that included a song from the 90's band Grant Lee Buffalo that lured me to purchase Mighty Joe Moon in 1994 or so. The album kicks off with the searing guitars of "Lone Star Song" and proceeds to swing bipolar between sweet folky acoustic and burning electrics all housed in HUGE unabashed reverb like only the 90's could deliver. Needless to say this was exactly what my then 26-year-old self thought was the best thing ever! Playing though that CD this evening and writing this article, it is still surprisingly an exciting and emotional album for me.
I bought Fuzzy and Jubilee and listened to them quite a bit, but by the end of the last century I was listening to much different music and didn't continue to follow what frontman Grant Lee Phillips was up to. As it turned out, he kind of abandoned the band in pursuit of a solo career, and has eclipsed the band in releases.
His most recent release came out in October, 2012 and is called Walking in the Green Corn. The album, which concerns itself with the extensive research that Phillips did regarding his Native American roots was recorded very quickly over the winter months leading into 2012. "I do my best work when nobody's paying attention – including myself," he recalls. "That's what happened: it really snuck up on me. By the end of the year, I had most of the album written and recorded." The resulting album leans more towards the thoughful folk acoustic sound than the often blistering electrics of his previous band, but doesn't abandon the emotion and sentiment distilled from his mixed heritage. "Connecting to my ancestry is like having this deep trunk that's embedded in the earth, with deep roots. It was always something that was important to my grandmother, who was Creek, and to my mother."
Phillips is on tour right now and is bringing his show to the crown of the NewBo district, CSPS on Wednesday night at 7PM. Tickets are $17 in advance and $20 at the door. This is a rare chance to catch him– I don't remember the last time he was in the area!
Click Here for information about the show at the Legion Arts website and how to get tickets.
The player on Phillip's website has most of the new album in it if you want to check it out.
Last year Grant Lee Phillips was on tour with another CSPS alum Glen Phillips of Toad the Wet Sprocket and WPA. Here are the two of the performing the title track: