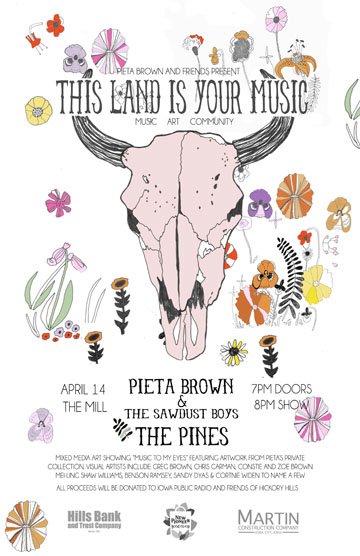 Ms. Pieta Brown is bringing her "artist in residence" show called "This Land Is Your Music" back to The Mill Restaurant in Iowa City on April 14th, 2012. In a similar fashion to the last two the show will feature Pieta as the headliner with other artists with local ties opening and a gallery exhibit.
This year, the event has been condensed into one show–  but it is a powerhouse bill shared with The Pines and is a weekend show. Pieta's set will be with a backing band that she is calling The Sawdust Boys– which is what she called her backing band for her recent tour of Australia. The Sawdust Boys are JT Bates and Michael Rossetto, who are conveniently also part of The Pines. I'm sure we'll see Bo Ramsey as part of one or both band's sets. Bo stopped by somewhat unannounced for the recent Pines show at CSPS and brought the house down with an unexpected solo song!
In the past Pieta has used these shows as a way to work out new material in a live setting– The Mill is a long-standing familial venue for the Ramsey's and Brown's and their associated friends. The audience for Pieta's shows are by far some of the warmest and welcoming I've seen and impromptu sit-ins by friends and family are par for the course.
The gallery exhibit will feature pieces from Pieta's private collection, including works from Greg Brown, Chris Carman, Constie and Zoe Brown, Mei-Ling Shaw Williams, Benson Ramsey, Sandy Dyas, and Cortnie Widen.
As with the previous This Land Is Your Music shows, this show is a benefit for Iowa Public Radio, and The Friends of Hickory Hill Park. Show is at 8PM on Saturday, April 14th with doors at 7PM. Tickets are $12.
Visit the Mill Restaurant webpage for details and how to order tickets.
Read my reviews and see pictures of the three 2009 This Land is Your Music shows. 11/5/09  11/12/09 11/19/09
Read my review and see pictures of one of the two 2010 This Land is Your Music shows. 12/4/2010
Here are some of my favorite pictures from the last shows: