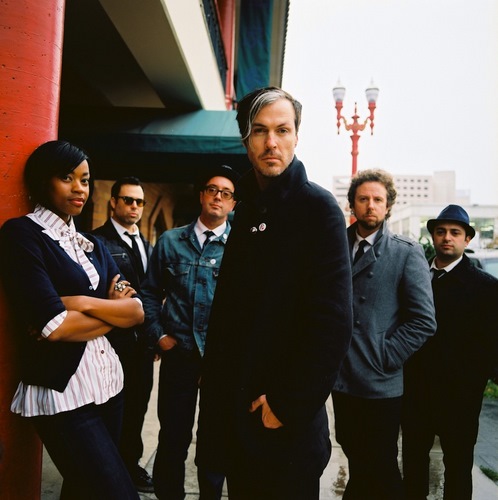 In addition to having a pretty cute band name, Fitz and the Tantrums seem to have really taken the scene by storm in their relatively short existence. The story goes that frontman Michael "Fitz" Fitzpatrick rescued a vintage keyboard from someone who needed to leave town quickly. The keyboard was the inspriation that Fitz needed to start writing the keyboard-fueled R&B that is the signature of Fitz and the Tantrums. A chance hearing by Maroon 5 frontman Adam Levine gained them a gig opening for his band on tour. Another opportunity performing on Daryl Hall's "Live From Daryl's House" online video series, a spot on Carson Daily and some choice placement of songs on a couple of TV shows and you have a formula for a band that is enjoying a meteoric rise. Having a shit-hot single and stylish video in "Moneygrabber" doesn't hurt any either!
As luck would have it, the L.A. band is going to be visiting the tundra-like Midwest at the beginning of February with some Play B-Sides connections in the mix.
On Saturday, February 5th Fitz and Co. will be headlining a gig in Chicago at The Metro with JC Brooks and the Uptown Sound and Play B-Sides extended family The Right Now! That is a powerhouse lineup of Soul and R&B and my pick for a not-to-be-missed show on the Windy City's calendar. This is a rare show for a while for The Right Now as they are holed up in their secret hideaway writing songs for their sophomore release. The few songs they've already trotted out on tour last year show promise for a suitable follow-up to Carry Me Home— a Play B-Sides Top 20 of 2010.
On the following Monday they will make the trip to Iowa, and play a gig at the Redstone Room with opening act Bermuda Report which features the vocals of former Diplomette Abby Sawyer. Bermuda Report snagged a spot in my Top 10 releases I'm looking forward to in 2011 with their upcoming full-length due this year.
If that wasn't enough, they are going to do an all-ages show in Iowa City on Tuesday, 2/3 at The Blue Moose Tap House for a measley $3! WTF? FTW!
So, with all of these opportunities to see Fitz and the Tantrums, get out to see them! Then you can say you "saw them when!"
Here is the video for the fantastic "Moneygrabber"

Check out their whole album with this player:
Fitz and the Tantrums Tour Dates (from Dangerbird Records)
Tuesday January 18, 2011 – Philadelphia, PA @ World Cafe Live
Buy Tickets
Wednesday January 19, 2011 – New York, NY @ Bowery Ballroom
Buy Tickets
Thursday January 20, 2011 – Allston, MA @ Brighton Music Hall
Buy Tickets
Friday January 21, 2011 – Clifton Park, NY @ Northern Lights
w/ Michael Franti & Spearhead
Saturday January 22, 2011 – Northampton, MA @ Iron Horse Music Hall
Buy Tickets
Monday January 24, 2011 – Portland, ME @ Port City Music Hall
Buy Tickets
Tuesday January 25, 2011 – Montreal, QC @ Petit Campus
Buy Tickets
Wednesday January 26, 2011 – Toronto, ON @ Mod Club
Buy Tickets
Friday January 28, 2011 – Cleveland, OH @ Grog Shop
Buy Tickets
Saturday January 29, 2011 – Milwaukee, WI @ Turner Hall Ballroom
Pablove Foundation benefit show w/ Silversun Pickups (acoustic performance), Maritime, and more
Buy Tickets
Sunday January 30, 2011 – Madison, WI @ High Noon Saloon
Buy Tickets
Monday January 31, 2011 – Columbus, OH @ The Basement
Buy Tickets
Thursday February 3, 2011 – Pittsburgh, PA @ Club Cafe
Buy Tickets
Saturday February 5, 2011 – Chicago, IL @ Metro
Buy Tickets
Monday February 7, 2011 – Davenport, IA @ Redstone Room
Buy Tickets
Tuesday February 8, 2011 – Iowa City, IA @ Blue Moose Tap House
Buy Tickets
Thursday February 10, 2011 – Minneapolis, MN @ Bunkers
Buy Tickets
Sunday February 13, 2011 – Nashville, TN @ 3rd & Lindsley
Buy Tickets