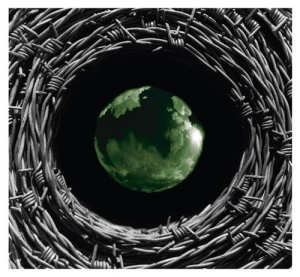 The UM camp released some more information about Mantis recently including a large version of the album artwork, the track listing, another track from the radio promo and some nifty wallpapers. From The Floor blog, we get the radio edit of "Spires" as well. Notably, the "Made to Measure" that the band made available to everyone who signed up for a UMLive account is the full version of the track at 3:12. If you want to hear "Preamble" it is the first song played in the player on the Mantis mini-site.
Here is the tracklisting for Mantis:
1. Made to Measure 3:12
2. Preamble 0:36
3. Mantis 11:49
4. Cemetery Walk 7:30
5. Cemetery Walk II 2:19
6. Turn & Run 7:25
7. Spires 7:41
8. Prophecy Now 2:47
9. Red Tape 5:43
10. 1348 4:49
Total Running Time : 54:04
In case anyone was worried that Mantis was going to be some exploration in radio-friendly pop music based on "Made to Measure," check out the track times. There are four songs over seven minutes, and one song clocks in at 11:49! So, while this may be an album representing a change in the band, they aren't eschewing extended workouts from their catalog.
Click Here to Download the Radio Edit of "Spires"
Click Here to go to the Mantis mini-site and pre-order the album, and download some nifty wallpapers.