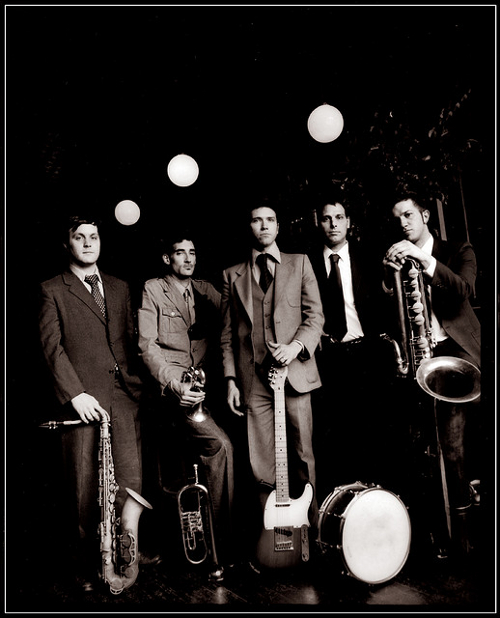 The Landfall Music Festival starts this week. The Landfall Music Festival is the Legion Arts' World Music festival that has taken place since 2008.  Like last year, the festival will take place at Greene Square Park in downtown Cedar Rapids. There will not be any performances at CSPS as it is under construction due to remodeling.
Legion Arts announced via their CSPS Facebook Page that The Sway Machinery was going to be added to the Saturday lineup. Although I hadn't heard of The Sway Machinery before, the connections to Balkan Beat Box, The Arcade Fire, Yeah Yeah Yeahs and Antibalas was enough for me to take a closer look at the band.
The Sway Machinery is the cross-cultural music project of Jeremiah Lockwood who has been the guitarist for the touring version of Balkan Beat Box. Lockwood saw a synergy between American folk-blues, African folk rhythms and his own Ashkenazic Jewish Cantoral heritage. Lockwood is the grandson of the legendary Cantor Jacob Konigsberg as well as the son of composer Larry Lockwood.
Jeremiah Lockwood appeared in the 2000 documentary "Hasidic Blues" directed by BBC veteran filmmaker Robert Mullan. In the documentary clip below Lockwood discusses how he arrived at the fusion of the seemingly disparate musical styles, "I was intentionally trying to do something new with [the Cantoral] music– trying to create a way of listening to the melody and the vocal style that would give it more context. I guess the emotional experience I've had listening to Cantoral music, other people can have that also, so it is important for me to find a way to communicate that."
Lockwood started The Sway Machinery in 2006 as a collaboration with Israeli percussionist Tomer Tzur who stayed with the band until 2007.  The band released its debut full length album on JDub Records (also the home of Balkan Beat Box) in 2009. Titled Hidden Melodies Revealed, it was based on a concert performed on  Rosh HaShana (the Jewish new year) at Angel Orensanz Foundation in New York City in September of 2007. From the JDub website: "Hidden Melodies Revealed showcases pieces based on mystical texts taken directly from the Jewish High Holiday prayers and reconfigures them in a startlingly new musical landscape."
In January of 2010, The Sway Machinery traveled to Mali to perform at the legendary Festival of the Desert. While in Africa, the group recorded a new album featuring collaborations with Malian artists, including Vieux Farka Toure and Khaira Arby. The resulting album is called The House of Friendly Ghosts, and will be coming out on JDub in 2011.
For me, The Sway Machinery is a compelling intersection of music between the recent insurgence of music influenced by African rhythms– The Budos Band, Antibalas, Extra Golden are all bands I listen to that claim these as their basis–  and music from Jewish culture and tradition I am not familiar with. The Sway Machinery will make for a strong wrap up for the four-day festival, and is the show I'm most interested in seeing.
Click Here to visit The Sway Machinery's MySpace Page.
Click Here to visit The Sway Machinery's website.
The Landfall Music Festival Schedule is: (borrowed from the Legion Arts Website)
Wed Sep 22

Dragon Knights, various times
Barbara Furtuna (France), 6-7:15 pm *
Mahala Rai Banda (Romania), 7:15-8:45 pm
Thu Sep 23
Dragon Knights, various times
Red Baraat (India / USA), 6-7:15 pm
Barbara Furtuna (France), 6:45-8 pm *

Cimmar

ó

n

(Colombia), 7:30-8:45 pm

Fri Sept 24
Kenge Kenge (Kenya), 6-7:15 pm
Portico Quartet (England), 6:45-8 pm *
Cordero (Mexico / USA), 7:30-8:45 pm
Sat Sept 25
Turkana (Turkey / USA), 1:35-2:45 pm
Salaam (Iraq / USA), 2-3:15 pm *
Calle Sur (Colombia / Panama / USA), 4-5:15 pm
Zedashe Ensemble (Georgia), 5:30-6:45 pm
Salaam (Iraq / USA), 6:30-7:45 pm *
Nation Beat (Brazil / USA), 7-8:15 pm
The Sway Machinery (USA), 8:30-9:45 pm

Performances marked * take place in First Presbyterian Church. Artists and schedule subject to change. For the latest updates visit this Website.