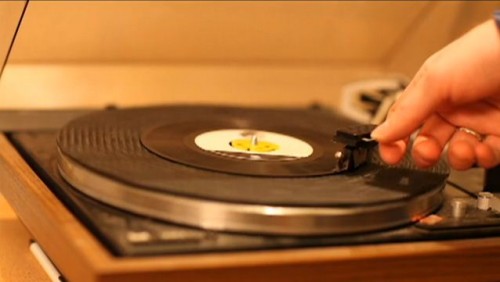 Well spring is nearly here, when the minds of young men turn to… Record Store Day!
We're just getting the early reports of what the brick and mortar treasures will be, and I'll be reporting on the ones that I think are interesting. The first one up is a limited-edition 7″ 45 RPM single from Hiss Golden Messenger of the Poor Moon song "Jesus Shot Me In The Head" b/w a Dub reworking of the A side titled "Jesus Dub" appropriately enough. This record will be on Tompkins Square Records which is primarily a folk and Americana  reissue label which recently has been expanding into new releases, which will include a CD reissue of Hiss Golden Messenger's 2011 release Poor Moon, which had been a digital and vinyl only release originally.
The record will be in stores on Record Store Day (4/21/12) and a limited few will be available through MC Taylor. The record will be distributed by Fontana, so ask your favorite local record store to order one for you to avoid the inevitable eBay inflation!
Read this interview with Tomkins Square label head Josh Rosenthal where he mentions HGM.
Here is a promo video for the release with a sample of "Jesus Dub."
Hiss Golden Messenger "Jesus Dub" Teaser from Harlan Campbell on Vimeo.