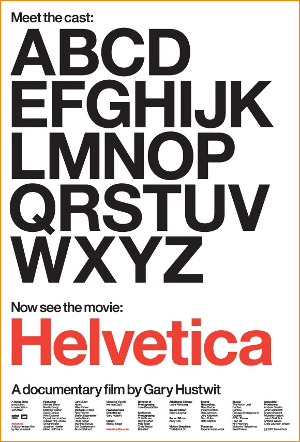 A friend of mine recommended that I watch the 2007 documentary dedicated to the typeface/font Helvetica titled plainly enough Helvetica. When I saw it show up in the NetFlix streaming recommendations for me, I watched it.
Helvetica the typeface was designed in 1957 by the Swiss type foundry Haas to be a general-use typeface. It was an immediate success and adopted virtually everywhere since, and enjoys constant use to this day. This documentary by Gary Hustwit looks at the typeface and its success and shows how its existence impacted graphic design over the years. Hustwit also produced the amazing Wilco documentary I Am Trying to Break Your Heart, the Robert Moog documentary Moog, and the Death Cab For Cutie tour film Drive Well, Sleep Carefully.
I found myself very engrossed in the film as I have been a type geek ever since my first Macintosh in the 80's. The movie talks a bit about the reaction to standard typesetting practices in the 90's during the "grunge" movement, which yielded a couple of my favorite magazines Emigre and Raygun which were the leading edge of that movement which I was a fan of which included the work Vaughan Oliver did with v.23/23 Envelope for 4AD records.
One of the things that hooked me right away was the soundtrack to the movie (of course!). It has a collection of really great Post Rock and related artists on it like El Ten Eleven (an impressive NINE songs!), Sam Prekop and The Chicago Underground Quartet. Here is the song listing from imdb.com:
"Thinking Loudly" –  El Ten Eleven
"Lorge" – El Ten Eleven
"Central Nervous Piston" – El Ten Eleven
"My Only Swerving" – El Ten Eleven
"Fanshawe" – El Ten Eleven
These songs are from El Ten Eleven's 2005 self-titled release.
"Meow"-  Motohiro Nakashima
"Potala" – Motohiro Nakashima
These songs are from his 2004 release And I Went to Sleep.
"Helvetica 2" –  Kim Hiorthoy
"Helvetica 9" – Kim Hiorthoy
Kim Hiorthoy is, according to his Wikipedia article, a Norwegian electronic musician. He's been recording since 2000 and has a number of releases out. These two tracks are obviously done specifically for this movie.
"Every Direction is North" –  El Ten Eleven
"Bye Annie, Bye Joe, Bye Michael, Bye Jake" incorrectly titled "Bye 2" – El Ten Eleven
"Hot Cakes" – El Ten Eleven
"3+4" – El Ten Eleven
These songs are from El Ten Eleven's 2007 release Every Direction is North.
"Seqy Chords 3" –Sam Prekop
"Seqy Solo" –Sam Prekop
These songs by Sam Prekop of The Sea and Cake appear to be written specifically for this release– or at least only appear here. I wonder if these songs are somehow related to the CD that came with his photography book?
"IPT2" –  Battles
This song is from the Battles 2006 release on Warp called EP C/B EP.
"Tunnel Chrome" –  Chicago Underground Quartet
This track is from Rob Mazurek's Chicago Underground Quartet project's 2001 self-titled Thrill Jockey release.
"Magic Step" – Sam Prekop
This song is from Prekop's 2005 release Who's Your New Professor on Thrill Jockey.
"And Then Patterns" – Four Tet
This song is from the brilliant 2007 Four Tet release Everything Ecstatic
"Pelican Narrows" – Caribou
This track is from his 2005 Merge Records release The Milk of Human Kindness.
"Shine" – The Album Leaf
This track is taken from The Album Leaf's 2006 release on SubPop Into the Blue Again.
This is a pretty great collection of bands– mostly ones that I really like and admire– and the two artists that I hadn't heard of (Nakashima and Hiorthoy) I plan to check out. I'm not the first blogger to comment on the soundtrack, and one of them even made an iTunes mix of it. It would be great if they'd release this soundtrack– if only the ones that are specific to this movie from Sam Prekop and Hiorthoy!