Last February I reported about former Iowa City band Death Ships– a show at the Mill and a new EP that he was going to release on iTunes. Titled Maybe Arkansas, it was a 4-track EP of some really great guitar rock. I said that it was, "a flat-out charmer– hook-filled and standing out in my mind as a testament to the great music that comes from the Midwest. These guitar pop songs draw easy and complimentary comparisons to other Midwest greats like The Jayhawks, The Honeydogs and, yes, Wilco. Each of these songs stick in my head with earworm intensity."
Over half-year later, I still feel this same way about the EP. Since Dan sent me the songs in order for me to review it, I was one of the fortunate few to get to hear it. Well, except for some tracks he gave to some blogs to post and all of the people to which I excitedly played it.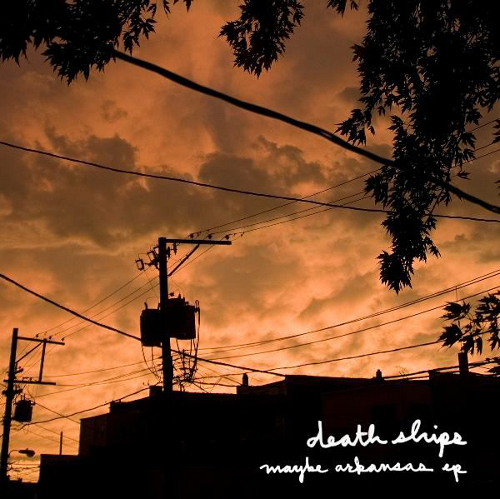 Last week the EP made it to iTunes and you can download it for $3.96 or Amazon for $3.56.  On a post frontman Dan Maloney made to his MySpace page, he announced the EP going to iTunes and also said that there will be a limited CD run of the EP. He also announced that they were going to start recording a new album next month.
Dan is bringing his Death Ships back to the Mill on Friday, September 17th opening for Ha Ha Tonka. In an e-mail to me this week, Dan said that they had a bunch of new jams he was excited to try out at this show.
I saw Ha Ha Tonka back in September of 2008 opening for Backyard Tire Fire and the then-Picador in Iowa City. They put on a really great show. You can see the pictures here. Since I saw Ha Ha Tonka, they have been signed to Bloodshot Records and released a new album in 2009 called Novel Sounds of the Nouveau South.
Also opening is Iowa City musician Brian Johannesen who performs as Grand Tetons.
Click to buy Maybe Arkansas by Death Ships on iTunes
Click Here to download "I Like It A Lot" from Maybe Arkansas.
Click Here for the Death Ships MySpace Page which has some of the tracks from Maybe Arkansas streaming.
Click Here for the Death Ships Daytrotter Session
Click Here for the Jay Bennett Daytrotter Session with Death Ships as his band
Click Here for the Splice interview with Dan Maloney from 2009 that has some unreleased tracks and a couple from the upcoming EP