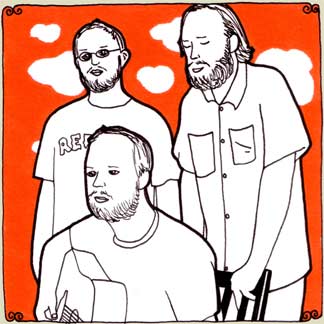 Last week was a good week for show postings at Daytrotter.com– our Internet-music fan-buddy to the Southeast of here. We got the 2008 recording of Nelly McKay, and we got the Pontiak session! Pontiak and Wye Oak were touring together last year on a shared bill and were scheduled to stop at the Mill in Iowa City on June 15th. However, the Floods of 2008 prevented them from performing their show. However, they managed to stop in at Daytrotter on the 16th and record four songs.
Pontiak's sludgy psychedelia translated well to Daytrotter's retro facility and in four songs provided a good snapshot of the ride that is Pontiak.
They recorded a song apiece from their previous efforts, "How Tall Are You?" from their debut Valley of Cats, and the waltzing title track from Sun on Sun. They also recorded the title track to their upcoming Thrill Jockey release Maker, due to drop on April 7th. They also dropped a campfire rendition of a recently-learned Warren Zevon cover "Roland the Headless Thompson Gunner."
Have a helping of Pontiak at Daytrotter.
Treat yourself to some Wye Oak from the same sessions.