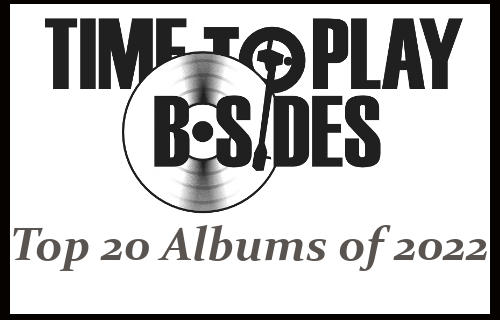 As far as how this writer's year went, 2022 was not really notable as far as music goes. The industry was still trying to recover from the mess of 2020 and, in fits-and-starts artists seemed to get back to the business of live performance. A few reports of bands getting COVID and canceling dates, though it didn't seem like whole tours were really impacted. I saw one in-store performance by Iowa musician Dick Prall (who performs as DICKIE). There were a few other shows I was interested in, but the malaise of not seeing shows really set in for me, plus COVID is still a concern I have.
Vinyl record manufacturing was still on the blink with most releases seemingly pushed back from original release dates and in some cases pre-orders canceled entirely. Used vinyl prices continue to rise. This is likely due to the surge of new vinyl collecting during the lockdown in 2020, and also due to economic inflation across the board and rising oil prices (which records are made from, and the fuel for shipping them). Good used vinyl records are getting harder to find in the typical spots, and if the record is by a top-tier artist, the retailers are taking advantage of it. Considering the tough time independent retailers have in general, I don't really blame them. Clean copies of pre-owned records by the cast of regulars– Beatles, Led Zeppelin, David Bowie and others have seen an all-time high. I bought a collection of 10 Bowie records that were between $20 and $30 apiece for very clean RCA re-pressings of his mid-70's titles. Thankfully, the Beatles and Led Zeppelin catalogs have been in print on vinyl for a few years now, and places like Walmart and Target stock them, so new collectors don't have to resort to early pressings if they don't want to.
Record Store Day returned to the non-Drop/two date version (April and Black Friday). My friends and I did the April RSD and bought quite a few titles (plus a ton of used). The RSD releases I bought were mostly reissues, so there won't be a lot of those on this list. Black Friday RSD was a bust as far as I was concerned. The list just didn't have anything I was interested in.
I continue to find myself purchasing a lot more from Bandcamp, both physical and digital releases, and my Top 20 list has a mix of both.
In no particular order, here are my Top 20 releases of 2022!
Makaya McCraven – In These Times Makaya McCraven is a drummer and producer from Chicago who is part of what I consider the new school of Jazz music. These are musicians who are drawing from the larger canon of Jazz, but are not afraid to fold in elements of current music (sampling, hip-hop, electronic music). Artists I think are also in this space are Jeff Parker, Thundercat, Kamasi Washington and Flying Lotus. For his album In These Times, McCraven is acting as band leader, pulling together other musicians to help deliver his compositions. The guitar on this album (as on some of his previous) is Jeff Parker. This is a beautiful record and one that I heartily recommend.
Toro y Moi – Mahal – This album might be the most-spinned this year for me. The super laid back chillwave style of Chaz Bundick (aka Chaz Bear aka Toro y Moi) is one I can't get enough of. The soft vocals and jazzy instrumentals land him squarely in the Sea and Cake space as well as his collaborators Mattson 2 (who are also on here). Summer vibes all year long.
Kendra Morris – Nine Lives Although this is her third album, I hadn't heard about her until Colemine Records started promoting the release (which is on Colemine sub-label Karma Chief). Her previous two albums gained press due to her involvement with Czarface/MF Doom (both released on Wax Poetics). This album is described as being "Neo Soul" and that pretty much nails it. She's got a huge voice that really cuts through the record. This record fits in with other releases on Colemine like the first album from Neal Francis and Monophonics. A real banger, for sure.
Monophonics – Sage Motel – Speaking of Colemine and Monophonics, Kelly Finnigan and company came back with a concept album of sorts surrounding vignettes of guests of a fictional seedy, but once glamorous hotel. I'd say the album is less of a concept album and more of an album with a running theme, so no worries of overwrought tales of blind pinball players or post war children who have mommy issues. It's more like White Lotus for the soul crowd. This video is AMAZING:
Elizabeth Moen – Wherever You Aren't – After a delay, Moen dropped her fourth full-length album in November. Since I reviewed it, I was lucky to have a lot of time with it before it came out. It's her best release to date with a lot more interesting details in the production including some new instruments. Read my review in Little Village here.
Spoon – Lucifer on the Sofa – This album seemed to drop out of nowhere for me. I'm a very casual Spoon fan, so I'm not really tracking them with the same fervor that I do other bands. In fact, they seemed to release like three albums that I didn't listen to, for whatever that is worth. I must have seen an article or something mentioning the album so I checked it out. For their 2022 album, the band seems to be leaning into the rockier side of their sound. I found myself listening to this a lot over the summer.
Sylvee and the Sea (aka Pieta Brown) – The Less I Needed The Better I Felt – This was kind of a surprise release and kind of overlooked. Sylvee and the Sea is a supergroup of sorts featuring Pieta Brown, Don Was (president of Blue Note Records, and formerly of Was (Not Was)) on bass, John Convertino of Calexico on drums and CARM (of Y Music and Bon Iver) on horns. A collaboration recorded remotely by sending snippets of music around and letting the musicians record their parts with the instructions of not overthinking their contributions or creating charts. Kind of a freewheeling affair of instrumentals in the Pieta Brown vibe of not sounding like any particular genre or time.
Bo Ramsey – How Many Miles – Another surprise drop came from Iowa country blues legend Bo Ramsey in the form of a digital EP. Never content to leave a song alone, Bo typically brings out retooled versions of his classic songs in a live setting. For this EP we have new versions of "Wounded Dog" with a searing guitar line by Mark Knopfler all the way through it, a laid back and softened take on "555×2" and a new take on "Blue Earth," the beautiful instrumental from Down to Bastrop. These versions represent the 2020's version of live Bo Ramsey. The other two tracks are new instrumentals in the vein of his 2016 album Wildwood Calling.
Revelators Sound System – Revelators – Revelators Sound System is a side project of M.C. Taylor of Hiss Golden Messenger along with Cameron Ralston of Spacebomb House Band. This project is intended to be distinct from Hiss Golden Messenger, and in fact sounds only vaguely like the jam-adjacent works of that band. These are full-on jammy instrumental workouts with some dub worked in and sounds a lot more like 70's albums from bands who heard Miles Davis's Bitches Brew– an aural pastiche of improvised breaks. While it isn't HGM, I can hear how this informs what live Hiss Golden Messenger is becoming.
Hiss Golden Messenger – Wise Eyes: Live at The Neptune, Seattle, WA, 2/25/22, Greetings From Charleston!, Mystic What: Live in Kansas City and St. Louis – Continuing the releases of live shows to Bandcamp, Hiss Golden Messenger gave us THREE fantastic live shows this year. All three have Grateful Dead covers, which sort of tips the hat to what HGM's live shows are becoming, in my opinion. This band keeps getting better and better in live performance. Out of the three my favorite is Mystic What based on St. Louis and Kansas City shows from March of 2022. Some deeper cuts in this set. "Standing In The Doorway" was a really nice surprise. My favorite non-album track, coincidentally paired with "Cat's Eye Blue" on a Record Store Day 7″ "Live From Spacebomb." and a surprise cover of "Bird Song."
Jeff Parker – Mondays at The Enfield Tennis Academy – This record is based on a residency that Parker and band did at the Enfield Tennis Academy which is a bar in L.A.'s Highland Park area. These are largely free improvised performances with some standards and original compositions peppered in. While the idea of an improv jazz album might turn most folks off, this group's use of melody and structure make this a very enjoyable music journey. The recording was made from open room mics, so we get the whole experience of the room complete with typical bar ambience.
Elijah McLaughlin Ensemble – II At this point, it seems that I'll buy pretty much anything that comes out on Tompkins Square. In fact, I hadn't heard of Chicago musician Elijah McLaughlin until Tompkins Square announced the pre-order in an email. Elijah McLaughlin's acoustic guitar work fits in the American Primitive space, but with his ensemble he creates layered and scenic soundtracks in a space similar to William Tyler's works. I quickly ordered his first album after I heard this album. Beautiful stuff.
Penny Peach – Ego Party – Penny Peach is often found delivering her amazing harmony vocals on other peoples' records (see: Anthony Worden and the Illiterati or Elizabeth Moen) but her string of solo recordings are worth checking out– her early works are largely DIY affairs but her last couple of album/EP's have had the full band treatment with her bendy, sneering and sometimes gutteral vocals front and center. She's kind of her own genre– a playful but often dark mixture of bratty Ramones punk, new wave and black metal. The droning distorted guitars smeared with Digitech Whammy pitch bending is fantastic.
Allegra Hernandez – Gift Exchange – Allegra Hernandez is a new artist I discovered this year through my gig as music reviewer for Little Village. This album is a fantastic mix of catchy melodic post-punk and fantastically epic guitar work. Read my review and interview with Hernandez for Little Village here.
Squalls – Live From the 40 Watt – In 2022 seminal Athens, GA bar band Squalls released a fantastic compilation of live recordings from the early 1980's (around the time of the performances in Athens, GA Inside/Out). Prior to this album, I was only really familiar with the songs on the soundtrack to that documentary, but this album shows the band in their element as a seasoned live act. Squalls are getting a reissue campaign of their studio albums, too, that are worth checking out. With the Pylon reissues, and the ongoing Love Tractor reissues, it's cool to see these Athens bands getting some love. Kilkenny Cats or Dreams So Real next?? Here's my article breaking down the live album.
Richard Thompson – Music From Grizzly Man – The brilliant soundtrack to the documentary about Timothy Treadwell done by Richard Thompson got the vinyl treatment this year. One of my favorite Thompson records is Strict Tempo, which is an instrumental record, and this soundtrack is a kind of compliment to that release. The Grizzly Man film is sort of hard to locate on the streaming services these days, but at least we have this soundtrack which also includes snippets of Treadwell talking.
Nathan Salsburg – Landwerk No. 3 – The third installment of the Landwerk series of guitar sketches by Nathan Salsburg came out this year. These albums started as a way for Salsburg to get some inspiration by utilizing samples of old 78 RPM records to provide loops of some instruments, and sometimes only the crackle. These are amazing records and I'm glad he is continuing this series.
Diplo – Diplo – I was a big fan of Diplo's first solo full length Florida which came out in 2003 around the time he started gaining attention having worked with M.I.A. and others bringing his finely-honed beats and production to a continually-growing list of projects (Major Lazer, Jack Ü, etc). He wouldn't bring another project credited to himself out until he dropped the California EP in 2018 around Record Store Day. Positioned as kind of the spiritual follow up to Florida, I was curious to check it out. I loved the bubbly, an often moody electro pop and it became a regular play in my car. His 2022 self-titled full length picks up where California left off. I really love this album and he's been nominated for a couple Grammys, and it is deserved.
Tom Petty and the Heartbreakers – Live at the Fillmore, 1997 Boxset – Tom Petty and the Heartbreakers captured at their peak. A legendary 20-night run at the Fillmore West in early 1997. The band wanted to step out of their regular album release and tour schedule and do something to reenergize them. This massive box set is a compilation of the last six nights of the run that were captured for editing to be use for radio broadcast. While the band didn't do the same setlist every night, there were some songs that were featured each night, and we can look at this box set as kind of representative of these shows. The box set is almost half cover songs, which is really fun, especially for fans like me who collect Petty.
I mentioned that I thought that they should do a box set of this run of shows in my article covering An American Treasure. I think this brings some hope that we'll see more box sets like this in the future. Maybe boxes based on the Fillmore runs in 1981 and 1999.
Life Moves Pretty Fast – The John Hughes Mixtapes Box Set – Under the category of everything eventually comes out on vinyl, we have this fantastic compilation of songs from the films of John Hughes. As someone who grew up with these films and also bought the soundtracks, this addresses some glaring omissions. For one thing, there was never a soundtrack to Ferris Bueller's Day Off, and we finally get pretty much everything from that on this box set (leaving off stuff like "Danke Shoen," "Twist and Shout" and the theme to Star Wars is fine, I think) and it fills out some of the other soundtracks that were released (She's Having A Baby, Sixteen Candles). I was a little surprised that it wasn't organized by film, but the spirit of it was based on the mixtape trades that Hughes did with the music supervisors, and I guess makes it more listenable as a big mix of everything. I wrote an article about the release here.