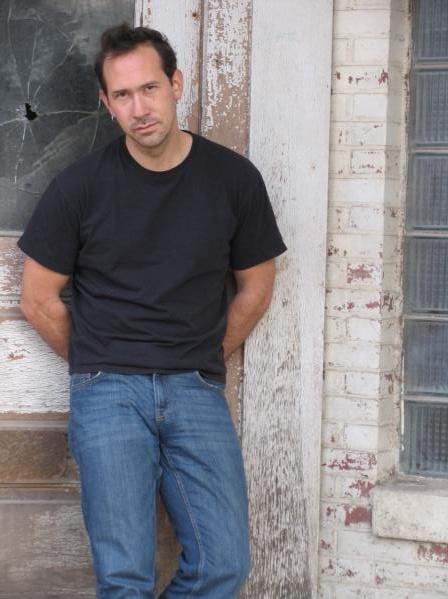 Iowa City musician Ben Schmidt has been on the Eastern Iowa scene for a while, releasing two critically-acclaimed self-released albums– Write It Down in 2002 and While You Were Sleeping in 2005. His press releases draw accurate comparisons to  John Gorka, Jesse Winchester, Kelly Joe Phelps and Leonard Cohen.
Ben is releasing a new album titled Silt which draws its inspiration from post-flood experience– the songs are from the perspective of people who have experienced personal "storms" — physical, emotional and spiritual and what remains when those waters subside. The album is pretty much a one-man affair with Ben recording vocals, guitars, bass, drums and electric piano. Assisting one the album is Nate "The Count" Basinger from the Diplomats of Solid Sound on organ, piano and accordion, Steve "The Chief" Hayes on drums, Lori Lane on harmony vocals and Larry Mossman on mandolin.
I've had the opportunity to listen to Silt, and I found myself focusing on his lyrics. Ben is a masterful storyteller and his deep, smooth voice provides the perfect narrative match. His style recalls some of the great classic singer-songwriters and anyone who is a fan of Lightfoot, Croche and Taylor should find Schmidt a complimentary listen.
To gear up for the promotion of Silt, Ben along with Larry Mossman are taping a Java Blend show with Ben Kieffer today (2/5) at the Washington St. Java House in Iowa City which will be aired on Friday 2/26 and Saturday 2/27 on Iowa Public Radio.
Ben will also be performing a show at CSPS in Cedar Rapids on Saturday 2/6 as a CD release show. Ben will be joined by Dustin Busch on guitar, Steve Hayes on drums, Lori Lane and Larry Mossman on mandolin. Dustin Busch will be opening the show with his hill country blues-influenced music. Doors will be at 8PM and tickets are $11 in advance and $15 at the door and available through IowaTix.
Click Here for the details of the CSPS show.
Click Here for Ben Schmidt's MySpace Page.