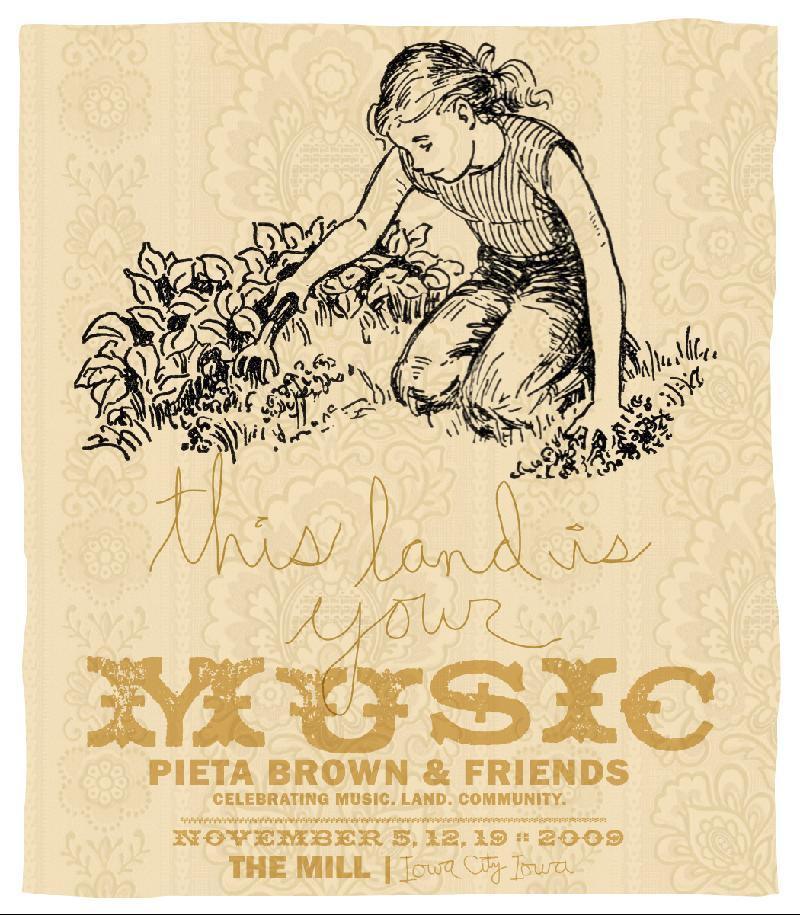 As previously announced, November brings a special "songwriter in residence" at The Mill in Iowa City by Pieta Brown called "This Land is Your Music : Pieta Brown & Friends" which is a series of three shows on November 5, 12, and 19 which is described as "celebrating Music, Land & Community." Each of the shows will center around Pieta's music with her playing in solo, duo (with Bo Ramsey) and in a full band configuration. In addition to her set, there will be an opening act and there will be an exhibit in the "back room" at The Mill featuring the art of a local artist.
The shows start at 8PM, and are $10 with the proceeds going to support The Friends of Hickory Hill Park, public radio station KCCK, and public radio station KUNI (which is now part of Iowa Public Radio).
Here is the breakdown of the shows:
November 5th: Pieta Brown solo with opening act Alex Ramsey. Alex is one of Bo's sons and brother of Benson Ramsey of The Pines. Alex has provided piano to the last couple of Bo Ramsey releases as well as The Pines. The exhibit will feature artwork by Zoe Brown, who is Pieta's sister and provided the artwork for Pieta's last EP Flight Time. The exhibit will also feature art by Dustin Busch. Dustin is an Iowa City stallwart having been playing solo and also part of Kelly Pardekooper's Devil's House Band.
November 12th: Pieta Brown with Bo Ramsey, with Bo Ramsey solo opening. This will be interesting as I've never seen Bo as a solo performer. I have a bootleg from a couple of years ago where he was touring with Greg Brown and he opened solo and it was really cool. The exhibit will feature art by Codi Josephson who runs Home-Ec Workshop in Iowa City. This will probably be the CD release show for Pieta's new EP Shimmer produced by Don Was, which comes out that Tuesday, 11/10.
November 19th: Pieta Brown and Skyrocket, with Dusty B. (aka Dustin Busch) opening. Dustin Busch is a former Iowa City musician who is currently the guitarist in the Tucson group The 17th Street Band. The exhibit will be a collage of work by local photographer Sandy Dyas. Sandy's book "Down to the River" is a collection of pictures of Eastern Iowa musicians including Bo Ramsey, Pieta Brown, Kelly Pardekooper, Greg Brown and others. The book comes with a CD of songs from these artists and is well worth seeking out.
Any way you look at this, this is a really cool event and it is wonderful that Pieta is giving back to the community that fostered her career. If you have the opportunity to see any of these shows, by all means, don't miss it!
Click Here to visit the Mill calendar which will have information on how to purchase tickets.
Click Here to pre-order Pieta's new album Shimmer.