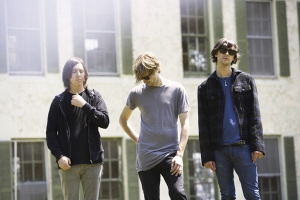 One of my summer soundtrack albums is Aussie band Cut Copy's new album In Ghost Colours. Produced by onetime UNKLE member and DFA Records head Tim Goldsworthy it's an excellent pastiche of 80's Synthpop acts drawing from New Order, Human League, and even clubby techno inspiration.
Already the album– which was released in March– has had a number of really great singles and remixes done. Cut Copy announced on their MySpace page that they would like to extend the opportunity to their fans as well, so they've provided the vocal acapella to the dancy "Hearts on Fire" track. With it's four-on-the-floor beat it is a pretty likely mashup candidate, I think. From the blog:
for all you folks who like having fun with these things. Go nuts, but if you want to do anything commercial with it, ask us first, and let us hear it. Who knows? It might even get picked up for official release. Actually – we're excited to hear all uses, commercial or not, so send them on!

Send all mixes, mashups, muzak, etc. to: info@punkdafunk.com or to one of the fine folks at your local Modular office.
Click Here for Cut Copy's MySpace Page
Click Here for the mp3 of the acapella (Sendspace Link Alert) (The AIFF file is here)