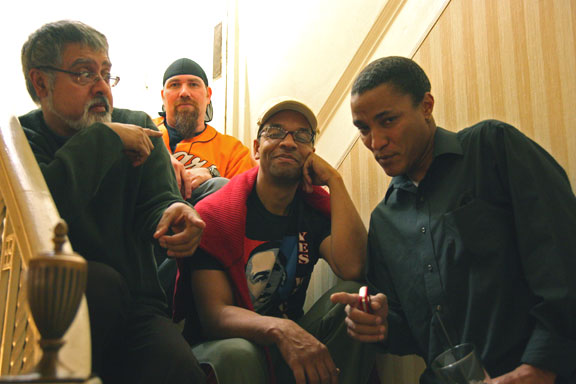 Sherry and I were taking a tour of the New Bohemia area of Cedar Rapids earlier today with Mel Andringa of Legion Arts. Sherry is looking at building options in the 2008 Flood-ravaged area for her gluten free bakery prospective project. We walked by the new restaurant bar Parlor City Pub and Eatery and I saw that Garaj Mahal will be playing there on Sunday, September 20th!

I saw Garaj Mahal guitarist Fareed Haque last November as part of the Kirkwood Community College Performing Arts Schedule. He did a "master series" class at the college in the afternoon and performed with the Kirkwood Jazz ensemble and the C.R. Jazz Big Band that evening.  Fareed is a noted Jazz guitarist in addition to his role in Garaj Mahal and has releases on Blue Note, Haven, and Pangea– which is Sting's label. The show was great with Fareed providing entertaining stories and commentary in between the songs. In addition to his accomplishments as a musician, Fareed is also a professor of Jazz and Classical Guitar Studies at Northern Illinois University in DeKalb where he lives and owns The House Cafe.
Garaj Mahal released their latest album w00t in 2008.
Certainly, don't miss an opportunity to see Garaj Mahal in one of Cedar Rapids' newest restaurants.
The show starts at 6PM Sunday, September 20th and has a $10 cover.
Click Here to visit the Garaj Mahal website
Click Here to visit the Garaj Mahal MySpace Page
Click Here to see upcoming tour dates for Garaj Mahal on JamBase.
Click Here to visit the Facebook Event for the show and RSVP.
Click Here to listen to "Hotel" from w00t.
Click Here to listen to "Jaime's Jam" from w00t.
Click Here to listen to "Semos" from w00t.