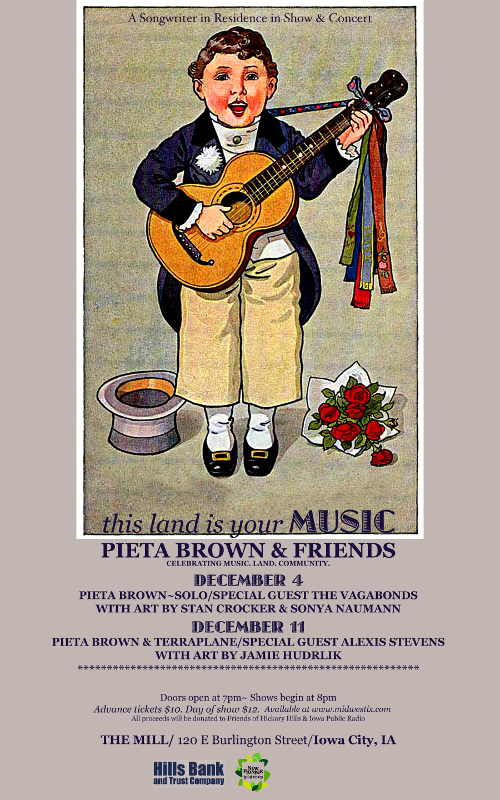 It's hard to believe that it already has been over a year since Pieta Brown hosted her first artist-in-residence at The Mill Restaurant. That show was three Thursday night shows in November last year (see my reviews for: 11/5, 11/12, 11/19). Next to the Daytrotter Barnstormer shows, these were some of my favorite shows of 2009– very intimate and special. The stage lighting and design by Stan Crocker was a great touch– an eclectic little living room. Pieta was using these shows to try out some live band configurations– solo, duo and full band. To help bring some awareness to the art scene in the area, she set aside the room normally reserved as the green room as a gallery which was really cool, too. The only disappointing thing to me about these shows was the lack of audience on a couple of the shows. By the 11/19 show, it seemed like word had gotten out about these gigs. But, mid-week shows are always hit-or-miss in Iowa City, even when school is in session.
Pieta is bringing This Land Is Your Music back to the Mill for two shows in December– Saturday 12/4 and Saturday 12/11. The tickets are $10 in advance and $12 at the door and the proceeds will again be donated to Friends of Hickory Hills and Iowa Public Radio. Doors will be at 7PM Here are the details:
Saturday, December 4. Pieta Brown performs a solo set. Her special guest will be Iowa City trio The Vagabonds. The art in the gallery will be done by Stan Crocker and Sonya Naumann. Sonya Naumann has a really interesting photography project called "Thousand Dollar Dress" that maybe we'll get to see some of in the gallery.
Saturday, December 11. Pieta Brown & Terraplane headlines. We don't know exactly who is in the band, but Bo Ramsey lists this show in the tour section of his site. Alexis Stevens will open. The gallery will have works by Jamie Hudrlik (who happens to be the very talented daughter of Iowa City photographer Sandy Dyas who showed photographs last year).
I suspect that Pieta will have some of her wonderful new 180g vinyl pressings of One and All with her, too. (I got my copy this week!).
Click Here for Pieta Brown's website
Click Here for The Mill Restaurant website.
Click Here to visit midwestix.com to pre-order tickets to This Land Is Your Music II.
Here are my reviews for last year's shows:  11/5, 11/12, 11/19