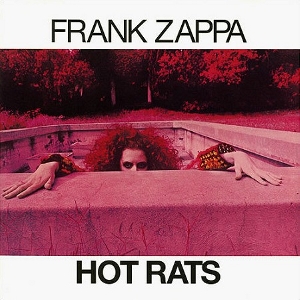 Via the e-mail blast from Acoustic Sounds, it appears that there will be two pressings of Frank Zappa's 1969 post-Mothers of Invention album Hot Rats coming out on 1/23/09. The releases will be handled by Classic Records with a 140g and 200g pressing. According to the Classic Records page on the release, it was mastered from the original analog master tape under the supervision of Zappa's wife Gail by Bernie Grundman.
This comes as a blessing to the Zappaphiles and audiophiles as apparently the remastering that was done when Zappa moved his entire catalog from Reprise to Rykodisc in the late 80's he took the opportunity to make new mixes of his catalog. Never content to leave things alone he in some cases created new versions of the songs. The additional length afforded by the compact disc allowed him to make longer versions as well. Unfortunately, the 1986 mastering technology for digital was very new and the result were recordings that sounded different and apparently worse than the originals.
This is apparently the case with Hot Rats. So, this pressing gives people the chance to hear how Frank intended the album to sound in 1969, anyway. Debatably he may have preferred the work he did in the '80's, but we won't know.
My familiarity with Zappa's catalog kind of starts and ends with Joe's Garage as it's the only one I own. When I was following Phish I became familiar with "Peaches en Reglalia" as they covered it frequently in concert. This prompted me to seek out Hot Rats, which is the album that song is from. Hot Rats is pretty well regarded as one of the albums someone should listen to when starting to get into Zappa. Certainly it's a bit easier to stomach for the average listener than some of Zappa's mammoth catalog as it doesn't have any of his trademark scatalogical humor or political views. In fact this album only has one song with vocals and that is the bluesy "Willie the Pimp" with Zappa's friend Don Van Vliet, aka Captain Beefheart. When I listen to Hot Rats, I'm pretty amazed that this was recorded in 1969. While it sounds dated, it doesn't have the late sixties production one might expect. Hot Rats is alleged to be the first recording that uses 16-tracks. The Beatles were recording Abbey Road around the same time Zappa was recording this album and they were using 8 tracks!
Apparently Gail Zappa is using this reissue of Hot Rats to gauge whether there would be interest in releasing the rest of the catalog on audiophile vinyl. Based on the chatter on the boards, I think this release will be very popular!
Click Here to order the 140g pressing of Hot Rats from Acoustic Sounds ($24.99)
Click Here to order the 200g pressing of Hot Rats from Acoustic Sounds ($32.99)