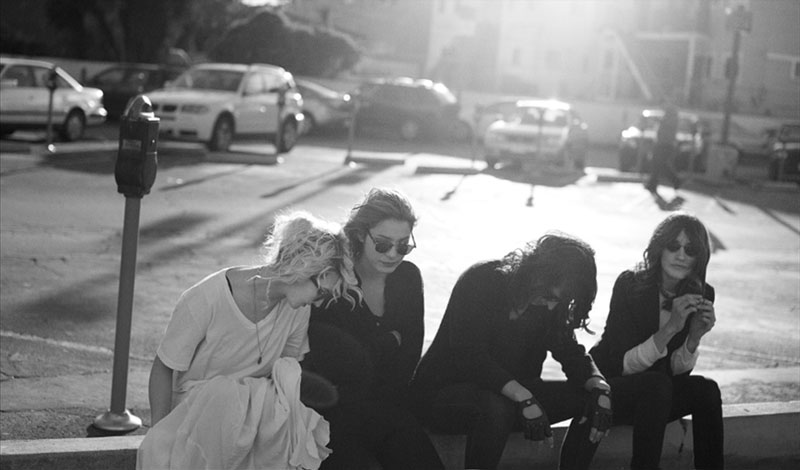 In an interview from earlier this year on Pitchfork, author Ryan Dombal describes L.A. band Warpaint as having "desert dust grooves, breathy, Cat Power-style vocals, and slithering guitar work." That seems to describe what I hear on Warpaint's debut EP Exquisite Corpse (Manimal Vinyl). For an EP, there are an impressive three songs over six minutes! Guitarist/vocalist Emily Kokal said in the interview, "I like progressive rock like King Crimson and Yes along with electronic music, things that don't have standard pop structures. My mom listened to a lot of Grateful Dead bootlegs throughout childhood and even though I swore I hated them, I know they seeped in."
Warpaint started gaining some buzz this year touting some celebrity fans and production help from Red Hot Chili Peppers guitarist John Frusciante. Warpaint recently signed to Rough Trade Records and are currently working on their debut full length with Tom Biller.
Warpaint is currently on a whirlwind tour of the US hitting a bunch of Midwest dates leading up to a desirable Bonnaroo appearance on 6/11 followed shortly by some NYC dates with Lollapalooza in Chicago in August.
Upcoming tour dates (from MySpace):
Jun 4 2010   8:00P ZANZABAR Louisville, Kentucky, US 
Jun 5 2010   8:00P RADIO RADIO Indianapolis, Indiana
Jun 6 2010   4:00P DO DIVISION STREET FESTIVAL Chicago, Illinois
Jun 7 2010   6:30P BLUE MOOSE Iowa City, Iowa
Jun 8 2010   7:00P CROSSROADS w/ The Temper Trap Kansas City, Missouri
Jun 9 2010   7:00P THE PAGEANT w/ The Temper Trap St. Louis, Missouri 
Jun 11 2010  12:00P BONNAROO 2010 Manchester, Tennessee
Jun 13 2010  8:30P DC9 Washington, DC
Jun 14 2010  6:30P MERCURY LOUNGE ::EARLY SHOW:: New York, New York
Jun 15 2010  8:00P KNITTING FACTORY - BROOKLYN Brooklyn, NY
Jun 16 2010  8:00P MOHAWK PLACE w/ The Phenomenal Handclap Band Buffalo, New York 
Jun 17 2010  8:00P NXNE @ LEGENDARY HORSESHOE TAVERN Toronto, Ontario, CANADA 
Aug 6 2010   12:00P LOLLAPALOOZA 2010 Chicago, Illinois 
Aug 7 2010   12:00P LOLLAPALOOZA 2010 Chicago, Illinois 
Aug 8 2010   12:00P LOLLAPALOOZA 2010 Chicago, Illinois
Oct 28 2010   7:30P SCALA London, UNITED KINGDOM
Warpaint will be performing in the Blue Room upstairs in the Blue Moose Tap House on Monday 6/7. Local pinch-hitter opening act Electro group Datagun opens. I saw Datagun open for Death Ships a couple months ago and was really impressed with their energy– not to miss. Tickets are $10 and doors are at an early 6PM.
Click Here for the Blue Moose Tap House Events Calendar
Warpaint on Noisemakers with (former MTV VJ) John Norris which has interviews and live performances:
Click Here for Warpaint's MySpace Page
Click Here for Warpaint's Facebook Fan Page
Click Here to follow Warpaint on Twitter
Click Here for Warpaint's Page on Rough Trade Records.