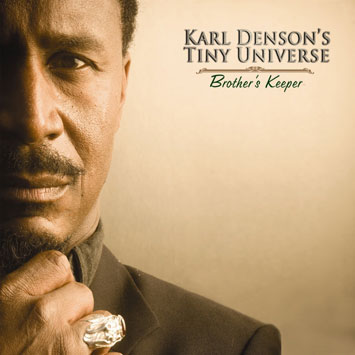 Karl Denson is the sax player and frontman of groove powerhouse group Karl Denson's Tiny Universe whose new album Brother's Keeper (Shanachie) comes out next Tuesday, September 22nd. Karl has a fairly impressive career working with Lenny Kravitz on Let Love Rule and Mama Said as well as co-founding the jazz funk outfit Greyboy Allstars. I reviewed Greyboy Allstars last album, 2007's excellent What Happened to Television?
So it seems with all of the people he has worked with in the past that he can call in favors– and on this album the payback came in the form of help from Meshell Ndegeocello on bass (you might remember her duet with Mellencamp on a cover of "Wild Night" by Van Morrison), Marc Ford from the Black Crowes, Jon Foreman from Switchfoot, Zan Najor from the Greyboy Allstars and others.
Brother's Keeper is Denson's 12th release since 1992 (not including Greyboy Allstars releases) and it finds him in fine and funky form as evidenced by our free track "Shake It Out." Said Denson about the new album, "I'm not one to live in the past. I am very much a forward thinker. [This record] is a continuation of my world view [and] a culmination of all my life's work up until now."
Karl Denson's Tiny Universe is on tour and will be at RIBCO in Rock Island Saturday, September 19th, followed by a Des Moines show on Sunday night at People's.
Click Here to listen to or download "Shake It Out" from Brother's Keeper by Karl Denson's Tiny Universe.
Click Here to visit Karl Denson's website.