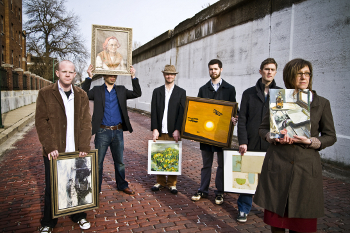 Most of the press that surrounds the Chicago sextet Canasta is wrong.
Maybe I should be more clear. Upon my first listens of Canasta's fantastic 2010 release The Fakeout, the Tease and the Breather I was immediately whisked back to my halcyon days of college in the early Nineties, when I had more hair on my head, less hair on my face and the dew of optimism had yet to be wiped from my eyes.
This hot tub time machine was made possible by very strong–and I use this non-ironically–Beatlesque Britpop influence. The soft tenor style of vocalist Matt Priest to me recalls singers like Ian McColloch from Echo & the Bunnymen, Nick Heyward from Haircut One-Hundred, and Kurt Ralske (aka Ultra Vivid Scene). The fact that Canasta is a six-piece helps them deliver beautiful, complicated, nearly-orchestral pop. Clean ringing guitars and gorgeous vocal harmonies floating over strings and keys draws easy comparisons to The Smiths.