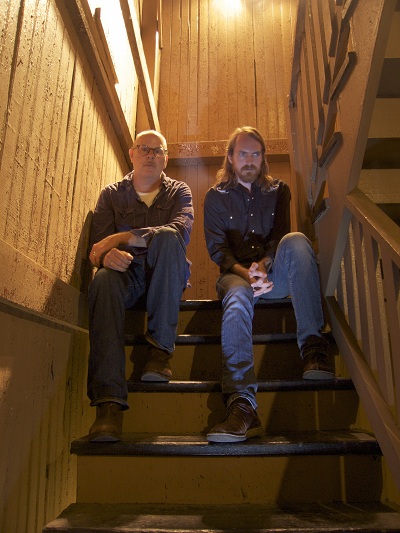 Birthed from the very fertile improvisation and post rock scene in Chicago comes the collaboration of guitarists David Daniell and Douglas McCombs. David Daniell's career dates back to 1996 with work in the improvisation group San Agustin. Between his collaborations and solo work he has established a pretty substantial recorded career. Daniell met Doug McCombs when they toured together in 2006 in  Rhys Chatham's six-guitar Die Donnergötter band. McCombs notably plays bass and guitar in Tortoise as well as his solo project Brokeback and Eleventh Dream Day. This meeting cemented a relationship of the two music fans where they exchanged records which lead to the recording sessions that would result in their 2009 release Sycamore on Thrill Jockey.
Sycamore was recorded over five days in two Chicago loft spaces chosen for their acoustics. The resulting seven-and-a-half hours of music was pared down to the four songs on the album by Daniell and McCombs in editing sessions in a fashion recalling how the late Teo Macero worked with Miles Davis on albums like In A Silent Way (a personal favorite). Final editing and mixing was done by Tortoise compatriot John McEntire at the legendary Soma Studios.
The resulting album is an impressive execution. The ambiance of the record reminds me a lot of Tom Verlaine's 1992 album Warm and Cool
which was very a very influential record for me when it came out and was re-released by Thrill Jockey in 2005. Clean, layered guitars, sparse percussion provide what is a great soundtrack for my day.
Coincidentally, Bettina Richards– the label head for Thrill Jockey— told me when I visited last year that it was Doug who turned her on to the Verlaine album.
David Daniell and Douglas McCombs will be playing The Blue Room at the Blue Moose Tap House (which used to be The Industry, and before that The Cue) on Thursday, March 4th. The opening act will be Star City and another act to be announced. Doors are at 8 PM and tickets will be $7 and are general admission. You can purchase tickets in advance at TicketWeb.