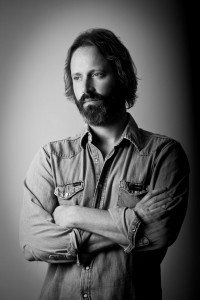 Neal Casal is a musician who you discover when you start digging into his career, has a Six Degrees of Kevin Bacon-esque connection to other musicians. The fact is that Casal's personal mantra is to live a life of creativity, and he achieves this in spades through his own extensive solo career with 11 albums dating back to 1994, sideman work in countless recording sessions and stints in other bands including high-profile runs in Ryan Adams' Cardinals and currently Chris Robinson's Brotherhood (which has an album coming out this year) as well as a blossoming photography career.  Casal's latest solo record Sweeten the Distance will be released on Royal Potato Family on April 10th. Neal was a generous interviewee, and I came away from the conversation very inspired about my own music collecting, performing and photography.

When I called Neal, he was in busy painting a bedroom. He had to turn down the music he was playing to hear me. After introducing myself, I opened by asking him about his ties to the resurgence of the "Laurel Canyon" scene that started around some jam sessions at Jonathan Wilson's house.
Yeah, I have a few of those connections for sure… Wilson is a friend of mine, yeah, we've played music a bunch, been around his studio and seen a lot. We're all part of the same music scene really.
I played on Mark Olson's solo record Many Colored Kite, I was asked to play bass on the Gary Louris solo record Vagabonds by Chris Robinson who produced it, but I couldn't because I was in the Cardinals at the time and we were getting ready to go on a long tour for Easy Tiger. But, I also play some bass on the new Jayhawks record.
A great record– I'm so happy they are back together.
Yeah, I was a long-time Jayhawks fan– back in the early-90's I used to see them play all the time. I loved them, they were a big band for me. So, I was really lucky to get to know those guys and to play with them a bit.
Let's talk a little bit about your record collection, I assume you're into vinyl?
I'm definitely into vinyl. I have a whole living room full of vinyl and I buy stuff all the time. I played in L.A. last night, actually, and there is a great record shop called Origami Vinyl and I bought the Michael Chapman Rainmaker reissue, which was his first album for the Harvest label in '69– amazing sort of skewed English folk with some Rock elements in it.
I listen to vinyl all day long, I buy vinyl all the time– I don't even know where it begins and ends, you know?
Was vinyl a resurgence for you, or were you into it all along?
I started collecting vinyl well over 20 years ago and it just never stopped– it never died for me. I never let go of my collection or anything like that. It's cool that vinyl is at an all-time high with all of the reissues and attention to detail– it's amazing. And, now that I'm in the Chris Robinson Brotherhood the vinyl obsession goes even further. Chris is an avid music listener and he and I get along so well musically and in every town we play– we are in the record shops. So, last year touring around the country we were spending our paychecks on stacks of vinyl. It was great!
Did you end up shipping the records back or did you bring them on the bus?
Oh, they were on the bus! There was no where to even sleep in my bunk! It was just so full of records.
So, yeah, I'm listening to records all the time– in fact, I was listening to Captain Beefheart on the turntable and painting a room as you called.
Which Captain Beefheart record was it?
I was listening to a record called The Spotlight Kid. It isn't exactly my favorite, but that was what I was listening to just now.
In your collecting do you tend to focus on any particular genre, or are you a completist in anything?
I'm not really a completist, although at the moment I'm trying to find every single Robbie Basho record there is. Robbie Basho was an acoustic guitar player in the John Fahey tradition or style who made records in the 60's, 70's and 80's. I'm currently obsessed with him and would like to get all of his records, actually.
I'm only just recently getting into John Fahey. I feel like I'm kind of late to the party.
John Fahey was amazing– he had his own record label called Takoma Records and Robbie  Basho was on Takoma for a while. He wasn't like Fahey, but he was kind of in that vein. Completing my Robbie Basho collection is hard, though because some of them are really rare– they're quite expensive now.
Some of the Fahey records are getting reissued, so maybe some of Basho's stuff might get reissued, too.
Yeah, exactly. For a while I wanted to complete my Incredible String Band collection, which I finally did, which is cool. But, it isn't really about being a completist as it is about finding cool stuff and discovering what new music you can, you know?
When CD's came out in the 80's I jumped on that bandwagon– so most of my collection until the last decade or so was made up of that– I have thousands of CD's…
Oh, we we're all on that one, you know– me too, believe me. My CD collection is now– I got rid of almost all of the cases, and I just put them all in books. So I still have most of my CD collection and I have stacks of CD books as well, so…
Yeah, I've always had a turntable and my vinyl, but during the CD years I'd only pick up vinyl when there was something I wanted that was only available on vinyl– like maybe a remix or something and it has only been in the last decade or so that I started getting back into vinyl, and really in the last three years I've tripled my collection of vinyl. Thankfully, the majority of people still don't seem to think that vinyl is a going concern, so you can still find good deals on some pieces. It seems like I'm spending a lot of time replacing albums from the 90's that I originally bought on CD.
Yeah, CD's as a format you can just see is just not very timeless, you know what I mean? CD's are not wearing well as we move down the years. That's a problem– the artwork doesn't last, it looks like shit, they look horrible in your house– they don't display well. They sound weird, too– they skip and they get all fucked up. They're still around, of course, but they are just not a timeless medium. It's amazing to see that with vinyl, they got it right the first time.
I completely agree with what Neil Young has been saying about CD's for many years— that the sound isn't what it should be. So, for your own albums, how are you doing it? Tape to LP? Digital and then mastering to LP?
I recorded my last two records digitally, and that's fine. I think that recording digitally isn't particularly a problem if you do it right. I work with really great people who know what they're doing with all of that stuff. But, I still like to work on tape as well. Recording digitally is a fact of life that I totally accept, and digitally recorded records can be mastered to vinyl beautifully.
Sweeten the Distance will be on vinyl, and the last Hazy Malaze record Connections is available on vinyl, too, right?
Yeah, actually all three Hazy Malaze records are available on vinyl. The first Hazy Malaze record was recorded on tape and mastered to vinyl– so that is a record that is completely analog which was really cool.
Speaking of Hazy Malaze, the two other members Dan Fadel and Jeff Hill are the rhythm section of the new record. They have played on my last three solo records records in addition to the three Hazy Malaze records which we all co-write together. Those two guys are  are such a huge part of my musical life. they're a team and we've done so much musical work together.
Also, two of my albums from the 90's are coming out on vinyl as well.
The reissues that Fargo did?
Yeah, and they did a really great job with those. But, I'm most excited with Sweeten the Distance. Thom Monahan, the guy who produced it was a big key to the sound. He is such a great producer and he works with so many people: Vetiver, Fruit Bats, and he did the Chris Robinson Brotherhood record we just finished, and he also co-produced that Gary Louris record Vagabonds with Chris Robinson. And, Thom also worked with Jonathan Wilson on his album Gentle Spirit. So, you can see how all of these roads cross with this circle of friends we have going on here.
Yeah, I first heard about Jonathan Wilson about the time I started getting into Dawes and heard about the get togethers he was having at his place in Laurel Canyon.
Yeah that was fun. That is where I met Jonathan and those guys– a really good scene. Jonathan was also really good friends with Jonathan Rice who is in Jenny and Johnny— have you heard their record?
Actually, no. I'm more familiar with Rice's solo stuff.
Jonathan Rice has done two solo records, but his girlfriend is Jenny Lewis who was in Rilo Kiley and they are in Jenny and Johnny together. I used to play with Jonathan Rice many years ago– so this scene just kind of came together from people who knew each other. And, there is another guy name Farmer Dave Scher who is in Beachwood Sparks.
And, you toured with Beachwood Sparks, right?
Yeah, and they just make a new record with Thom Monahan that I play on as well. Crossing streams, you know.
There must be something in the water up there– it's almost a corollary to the 70's Laurel Canyon scene– Jackson Browne working with the Eagles, the Eagles working with Linda Ronstadt, Linda Ronstadt working with Neil Young and James Taylor…
Yeah, it's people around– all in the same place doing stuff– people with songs– and it's a good idea to get together. I don't think anyone really thought about it, but when you look back on it, you're like, "wow, we really did a lot of stuff together." No one set out saying, "we're going to make a new Laurel Canyon scene." That would have been incredibly pretentious. It just started to happen.
When you get ready to work on your solo stuff, do you find yourself maybe water-shedding with your records?
Well, actually, I try to get away from my records, actually. So that it's not so much like I'm trying to cop another thing, you know? For me, the record collection is useful as a subliminal influence. In my off-time I'm listening to records constantly, and I'm just absorbing stuff. But, when it comes time to really write or really record– that's when I put the records away. Try not to make any direct references. I used to do it when I was younger– bring a record to the studio when you're making a record and you tell the producer, "I want the record to sound like this." That's just stupid, it never really works. To try to cop something directly is not a good idea– you just need to do your own thing– you have to look for your own voice. My 60's and 70's influences come across strongly in my music, I admit– but I don't sit around with Thom Monahan playing Jackson Browne records trying to replicate them. The fabric of who I am as a musician comes from my record collection, but it is absorbed in a much different way– a much more subtle or internal way. That said, when I worked on the Chris Robinson Brotherhood album, we did have a turntable in the recording studio– in the live room– and everyone brought in records, but that was just so we could listen to records on break and have fun.
How long had you been working on the songs on Sweeten the Distance? I know that you had an album out in 2009…
I started working on songs right after Roots and Wings, which was my last album. Just over the last two or three years. I'm just always working on music.
Looking at your career, I'm impressed at how capably you jump between your own music and helping other people with theirs.
I love doing a bit of both– it keeps things fresh. I love working with other people and I bring a little that back to my own music. Sometimes working on my own stuff can get to be a little isolating, so I love to be a guitar player for other people or bring in some harmony vocals. I just want to be playing music all the time. I like it to be an open thing. It doesn't have to be just my music– it can be someone else's as long as it is really good! I have so many friends that it just makes sense to go play with them. There are no rules that I should just do my stuff– I just want to do– I just want to do stuff and I want to be involved.
You do seem pretty adaptable– when I compare the music of the Cardinals, for example, to your music I don't think that they are necessarily very similar.
Well what the Cardinals did and what I do fall under the broad umbrella of American music. Playing with Ryan was an amazing experience. He is so unbelievably talented, and such an absolute great songwriter that I was influenced by him. Again, though, not so directly, but more like raising the bar in terms of quality of songwriting and song quality in general and the desire to be great. But, I didn't come out of that experience sounding more like Ryan. Before I had joined him, I had already been making my own records and had my own style. Part of the reason he wanted me to join his band was because I had my own style.
I read a comment that you made about how your photographs are in essence the songs that you couldn't or haven't written yet. It's an idea that really intrigues me as an amateur photographer and musician myself– the idea that two different art forms could be tied together.
It's all part of one creative flow for me. Taking photographs is like what we talked about– it's like playing with other people. Instead of just making my own songs, I play guitar with other people, and in addition to playing guitar with other people, I take photographs of those people. It's the way to make life creative– a creative flow 24/7– all the time. You can't play music constantly– so when I take a break from that, I pick up a camera. It's interesting that my photographs end up looking like my music sounds. The same aesthetic that I have in one thing, I bring to another– and that's very interesting to see. Like I might use space photographically the same way I do musically. You bring your personality into whatever you do, so things can kind of look and sound the same way. It's not the medium– it's YOU. In some of my music there is a kind of quiet aspect to things and I find myself doing that with a camera as well. I'm reaching for the same thing photographically as I am musically. I think that maybe my photographs are more diverse than my music, but there is a certain melancholy or introspection and that is a part of my personality that I'm working out and I do that with photographs as well. What is my psyche pushing me towards? That is one my my main revelations in my pursuit of photography.
My pursuit of photography started out as a way for me to document what I was doing– I  was on tour constantly and I was losing track of time– I was never ever home– nor did I want to be at home at that time. But, being on tour can be really tedious. Not boring– but you don't have control over your day. So, I started taking photographs to pass the time, but also so I could remember where I'd been. When you are on tour that much, I noticed that it was difficult to keep everything straight. So, I started taking photographs to make being on the road more tolerable. Also, to bring more creativity to being on tour– otherwise you end up in hotel rooms and coffee shops all day, and I can't handle that. Then, it became a passion when I realized that I had a knack for it. That is what photography has done for me– It has make my life so much bigger than just music. (chuckles) I'm just trying to have a rich experience here!
What is on your vinyl wish list?
Let me look at my phone… I always have a running list of stuff. There's so much…
Steve Hillage – Fish Rising : Chris Robinson played me that record…
The Collins Sisters – Anthems in Eden
"The Wicker Man" Soundtrack
Dr. Strangely Strange Records
Any Roy Harper records I can find
Robert Nighthawk – Bricks in my Pillow
John Martyn – The Tumbler
Robin Williamson (from ISB) – Myrrh – Really rare, I don't think I'll ever see it.
 Neal, I really want to thank you for your time, this was a great conversation! I should let you get back to painting your room!
Actually, this is perfect timing– I was painting while we were talking and I'm now done!
Neal Casal's new album Sweeten the Distance will be out on April 10th on compact disc, digital and glorious vinyl on Royal Potato Family Records. Click Here for the pre-order!