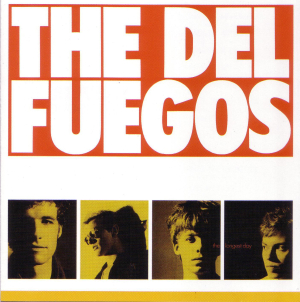 The Del Fuegos – The Longest Day (CD, Wounded Bird WOU 5174, 2008) ($7.33)
This was the week where I revisited my favorite music from the 80's in my purchases. I was reading the very helpful Monday post from Largehearted Boy that lists the Tuesday CD and DVD releases and was surprised to see that the first three albums from 80's roots rock band The Del Fuegos were listed as being reissued! WTF?
In 1985, probably watching Night Tracks on WTBS or Night Flight on the USA Channel, I encountered The Del Fuegos and their breakout single "Don't Run Wild." We didn't have MTV in my hometown so these shows in addition to Radio 1990 and Friday Night Videos were the only music video sources available to me. "Don't Run Wild"'s opening muted guitar and bass riffs and snapping fingers made me a believer and this little band from Boston became one of my favorite bands and is still one I listen to.
In the summer of 1985 I discovered R.E.M. during a family vacation in California which triggered in me the desire to search out bands that other kids in my hometown of 1200 people hadn't heard of. That summer I was 16 and with driver's license clutched firmly in hand I would cruise around town with friends listening to a lot of bands that had this retro Midwest 60's garage sound– The Smithereens, The Del Fuegos, The BoDeans, Los Lobos, Violent Femmes, R.E.M. and others– and this would be the sound that would carry me to the "alternative" college rock bands after high school.
The Del Fuegos were a hard-working, hard-rocking, and apparently hard-drinking bar band from Boston who were signed to indie label Slash Records which at this time was being distributed by Warners. Their first two albums The Longest Day
and Boston, Mass
were well-regarded critically, but it wasn't until they were approached by Miller Beer to appear in a commercial representing a hard working blue collar band that they grabbed national attention to the din of longtime fans' cries of "sellout!" In 1987 they followed up with Stand Up
, their third album with the winning partnership of Mitch Froom at the boards.
That summer my family and my best friend Kurt went to Chicago to see The Del Fuegos along with Tom Petty and the Heartbreakers and The Georgia Satellites as part of Petty's "Rock and Roll Revival Tour" at Poplar Creek on June 20, 1987. The Fuegos, the band that didn't have a hit on the charts at the time– unlike the Satellites was made the opening act. We were really excited to see the band and to see Tom Petty. Unfortunately, dwarfed by the huge stage in the hard light of the afternoon and possibly seventeen dates into a 33-date long summer tour their abbreviated opening slot seemed to lack the magic we'd expected from the band we listened to regularly over the last two years. I was also hoping that Petty would have joined the band to reprise his harmony vocals from the album on "I Can't Take This Place" but that wasn't meant to be, either.
According to this biography of lead singer and founder of the Del Fuegos Dan Zanes, following that tour Warren Zanes and Woody Giessmann quit the band and the band was dropped from Slash. That Fall I went to College and focused on other bands I was being exposed to by new friends I was making there.
In 1989 Dan and bass player Tom Lloyd attempted to revive the band– this time with members replacing brother Zanes and Giessmann with a new guitarist and drummer and new label RCA. I didn't purchase Smoking In The Fields initially– my brother Steve had a copy of it and listened to it quite a bit as I recall. Producer/Engineer Dave Thoener provided a more lush, updated version of the sound of three previous records and it yielded a rocking first single in "Move With Me Sister" which got to #22 on the Modern Rock charts. However, it died quickly with a lack of support from the label or it's A&R army– a record out-of-time in some respects. It sadly made its final rest among the cut-out bins which is where I got my copy. Listening to it today as I write this article, it is a solid record from beginning to end and sounds as good as some Tom Petty records in his catalog and shows Zanes as the strong songwriter and frontman that he was. Smoking in the Fields is as deserving of a reissue as the other three albums in my opinion.
In 1994 he came out of a period of retirement during which he started a family and quit drinking by providing a very short instrumental titled "Moon Over Greene County" to the soundtrack to "Natural Born Killers." This was followed in 1995 by his first solo album Cool Down Time
which was released on short lived Private Music which was bought by BMG the following year and has been out-of-print since. (There are a bunch of copies for under $5 on Amazon, BTW). This record was a return of Mitch Froom at the helm and brought his clank-and-rattle percussion and odd keyboard sounds he developed in the Latin Playboys to Dan's trademark roots sound. I love this album and it's shared production style with the Latin Playboys
, 99.9 Fahrenheit Degrees
from Froom's ex-wife Suzanne Vega, and Colossal Head
from Los Lobos is an interesting mix. Dan provided an e-mail address in the CD booklet and he and I exchanged a few e-mails which was cool.
The story has been told a number of times elsewhere on the net about Dan being disappointed with the children's music available and how he has reinvented himself as a children's/family-friendly artist and this path gave him a Grammy in 2007 for Catch That Train!
in the Best Musical Album for Children category.
In 2001 Warner Brothers sort of righted a long-standing wrong by providing The Longest Day on CD. The two following albums had existed been released on CD, but not Day. They did this strangely by including the whole album as part of an import Best of the Del Fuegos : The Slash Years
which also had tracks from the subsequent two albums. I hadn't gotten around to purchasing this album and now I don't need to since it has been reissued by a label I hadn't heard of called Wounded Bird.
Wounded Bird is a reissues label that has been in existence since 1998 and has a pretty impressive catalog of releases including most of Bread's catalog, Marshall Crenshaw, the solo work of the Cars and many others. It appears based on the two CD's I bought so far that they are licensed and manufactured by Rhino Entertainment. So, this implies that they have access to the original masters to make them. I have read some reviews on Amazon that people have been disappointed with some of the releases' sound quality. So, I think releases from this label come with a bit of buyer beware in that they aren't re-mastering these recordings, so if there hasn't been a CD transfer done these are coming from LP/Cassette masters. In the case of The Longest Day the production sounds great, so I'm assuming they are using the masters that were used for the 2001 Best of release. In the case of Boston, Mass and Stand Up they would be using the CD masters.
It's great to have this on CD, finally and completes my collection. I have the Slash catalog of the Del Fuegos on vinyl as well so I feel that my collection is pretty complete with this band.
Click Here for Dan Zanes's Website