Back in December, I reviewed an incredible collection of Daptone Records artists that was put out by Toyota/Scion's Scion A/V record label. Continuing in their pursuit of turning out promotional releases that appeal to their target Scion-driving audience, Scion A/V released three singles in May– all of them hip-hop titles. According to the PR, these releases will become available as downloads as well, but you should be able to pick these up at any events that Scion would participate in like car shows and Hot Import Nights-type events. I assume you can get these at the dealership as well, but I've never been to a Scion dealer.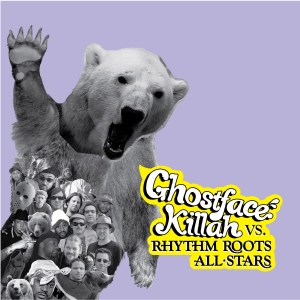 The first release (SA/V 003-01) is the Ghostface Killah vs. Rhythm Roots All-Stars "Charlie Brown" single. "Charlie Brown" is apparently a previously unreleased track from Ghostface Killah. You can hear the original track apparently produced by MF Doom HERE. Apparently never officially released due to sample clearance issues. Although, apparently it showed up on the "More Fish" EP. So, the track gets a new lease on life by pairing the acapella with L.A. Funksters Rhythm Roots All-Stars. The RRAS is a collection of long-time LA session players and members of the amazing Breakestra.
The track contains a typically fast rap from Ghostface explaining that he's going to save us from the bleak landscape of hip-hop. The chorus says it all "This is real hip-hop on the line today / It's worth more than any label or what they pay / I'm gonna save hip-hop because it's dying away." RRAS provides sliced and diced bass and horn stabs over the beat to move it. The only bummer with this track is that they had to edit out the profanity. I find the gaps in the rap distracting. But this is where the remixes help out, I think.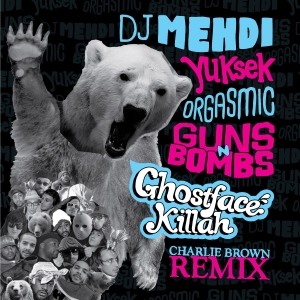 SA/V 003-02 is the "Charlie Brown" Remixes EP with knob-twiddling by the likes of DJ Mehdi, Yuksek, Orgasmic, and Guns N' Bombs. I've got to hand it to Scion A/V, they really know their underground artists. I hadn't heard of any of these remixers before this release! Something interesting I found out while researching this review is that Mehdi, Yuksek and Orgasmic are all French producers, and while Guns N' Bombs are from Cali, they signed to Kitsune, which is a French label.
First up is Mehdi who took the whole acapella vocals from the track but also adds Sewdish female MC Mapei to it giving Ghostface a duet of sorts. The production is a stripped-down Electro 808 plus new bass line that really provides more melody to the track than the Rhythm Roots All-Stars did.
Yuksek is up next who transforms the track to a Garage-style with dirty synths and a slamming 1-2 beat. He mostly used the chorus otherwise it's a completely new track, really.
Orgasmic is also known as the producer for French Hip-hop act TTC. His remix which harkens back to the late 80's and early 90's club music. DJ Orgasmic also kept all of the vocals on this acidhouse-ish version. This one is my favorite out of all of the mixes on this EP.
The last remix by Guns N' Bombs is a big beat dub with 4-on-the-floor. It reminds me of Roni Size or a bit like The Chemical Brothers. I really dig the fun analog synth break they included.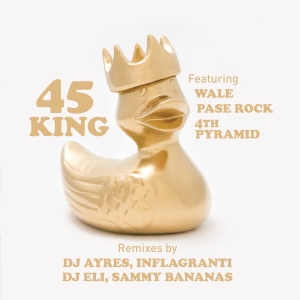 The third single (SA/V 003-03) features 45 King. 45 King aka "DJ Mark the 45 King" is the producer of a lot of groundbreaking Hip-Hop work including "Stan" by Eminem and "Hard Knock Life" by Jay-Z. As high-visibility as those tracks were, I'm surprised I hadn't heard of him. Looking over his Wikipedia article, one gets a sense of his career and how important he is to the scene.
So, this EP acts as an introduction and an update for 45 King. It is comprised of 8 tracks– actually four tracks of 45 King production and four tracks of remixes of those.
The first track is "Roof" and utilizes MC Wale, who we saw on the Scion Sampler 19 remix track of The Budos Band song "Chicago Falcon (Washington Square Lads Remix)." 45 King's production hangs a simple guitar loop around the lyrics and you're left with the hook "This is how we wind it down the line" stuck in your head long after the song stops. The remix is done by DJ Ayres and picks up the beat as well as speeds up the lyrics while adorning the mix with bongo, bass and maracas. Although Ayres removes the chorus hook from the song, it ends up being a real toe-tapper and an improvement over the original.
The next track is appropriately titled "Strings" and also features Wale on the vocals. Light beat with a string quartet loop floats the lyrics. The remix by Brooklin producer Inflagranti strips the track of the string quartet and– I'm pretty sure– inserts the guitars from "Love Is Like Oxygen" by Sweet and speeds it up a bit.
Tracks 5 and 6 are based on the classic "The 900 Number" which effectively brought fame to 45 King in 1987. In this "2K8" version, we have the original squonky sax and beat used in the original, which was sampled from Marva Whitney's "Unwind Yourself." On the mic is Pase Rock. DJ Eli Escobar returns with the same sample but flips it to a four-on-the floor beat and adds analog synth for his take on the track.
The last two tracks feature MC 4th Pyramid on the track "P-Y-R-A-M-I-D" in a funky bravado tale. 45 King brings the classic acapella from "Sissy Strut" by the Meters to really cement the tune. I have a bit of a distraction with this song in that I keep expecting to hear "The Magic Number" by De La Soul from 3 Feet High and Rising which used this sample as well. DJ Sammy Bananas (what a great handle!) flips this with a chunky stomp-and-clap beat and switches the focus to the "P-Y-R-A-M-I-D" lyric by distorting and slicing it up and creating a building pressure with it. I dig the synth line in his version.
So, Scion is doing themselves and the music community a service by matching up established artists with up-and-comers. I think the best part of reviewing these releases is that they don't come with much of a guide, so I end up doing a bunch of googling and finding out about the artists who work on them. Find these releases when you can!
For a limited time, Scion is allowing free downloads of the Ghostface Killah Remix EP and the 45 King one. Don't sleep on these! Do yourself a favor and follow all of the links I made in this review to learn more about all of these very talented producers as well.