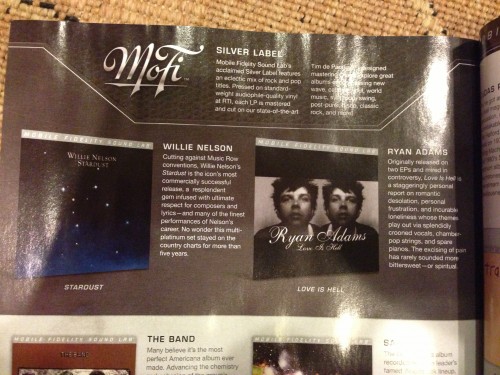 Paging through the gorgeous Music Direct Catalog for 2013, I was taken aback by the appearance of the Ryan Adams album Love Is Hell on the Mobile Fidelity Labs "Silver Label" release section.
Love Is Hell is one of many chapters in the story of Adams's dealings with his record label. Adams had recorded this Smiths-y follow up to Gold and turned it in to Lost Highway, who decided that it wasn't commercial enough and sent him back to the studio where he cranked out the Strokes-influenced Rock N Roll in two weeks. Lost Highway agreed to release Love Is Hell in the form of two CD's and a very rare 2 10″ records version. Eventually, Lost Highway created a full-length CD version encapsulating the two EP's and adding a bonus track (an unedited version of "Anybody Wanna Take Me Home" which ended up on Rock N Roll with a fade out and in).
These days, copies of the original 2 10″ record version of Love Is Hell goes for many hundreds of dollars, and if you are a collector of Ryan Adams on vinyl (as I am), the omission of this release in your collection is a painful one. We had a glimmer of hope back in 2011, when Lost Highway announced as part of their 10th Anniversary that they were doing some special vinyl releases— some of which hadn't been available on vinyl before. In the initial announcement, Lost Highway listed a 2 LP Gold (which restored the "side 4" tracks making it the original vision of Adams) as well as Love Is Hell, Rock N Roll and Whiskeytown's Pneumonia among other releases. Of these releases, only the 2 LP Gold saw the light of day from the Ryan-related releases. As you can see from the first link in this paragraph, only Gold is listed in the Anniversary releases. No reason was given as to why Lost Highway pulled the others, but I think it might be the very public dismissal of any vinyl releases on Lost Highway by Adams– he is kind of a purist when it comes to vinyl, and none of the vinyl releases have been mastered from analog.
That's why I was so shocked to see Love Is Hell in the Music Direct catalog, with the Silver Label strip emblazoned across the cover. MoFi's Silver Label line is apparently their discount line. In the catalog, they say, "Pressed on standard-weight audiophile-quality vinyl at RTI"– so this means it isn't 180g. The other question is what the release comprises. The catalog mentions that the release used to be two EP's suggesting that they are rolling the two releases together. Wikipedia lists the running time of the 1 CD version as being 68:01. That would make this release at least 2 LP's.
At this time, Mobile Fidelity is not listing the release on their website, so this catalog is the only reference to this release. There is a thread over in the Kevin Hoffman forums about the titles announced in this catalog that I've contributed to and I'll keep an eye on. If any other information develops about the release, I'll update this article.
11/21 Update: I received a response from MoFi on their Facebook account, and the provided the tracklist and some other details! This release will be three LPs, with the third LP made up of the Japanese bonus tracks! They don't have a release date, yet. But, what an amazing compilation! I'd love to see a Mobile Fidelity release of Rock N Roll with all of the import B-Sides.
Mofi 3-040
Ryan Adams / Love Is Hell
SIDE A
Political Scientist – 4:33
Afraid Not Scared – 4:13
This House Is Not for Sale – 3:53
Anybody Wanna Take Me Home – 5:31
Love Is Hell – 3:19
SIDE B
Wonderwall – 4:09
The Shadowlands – 5:18
World War 24 – 4:17
Avalanche – 5:09
SIDE C
My Blue Manhattan – 2:23
Please Do Not Let Me Go – 3:37
City Rain, City Streets – 3:49
I See Monsters – 3:57
SIDE D
English Girls Approximately – 5:42
Thank You – 2:52
Hotel Chelsea Nights – 5:10
SIDE E
17 Halloween – 3:52
18 Caterwaul – 5:42
19 Fuck the Universe – 7:29
SIDE F
20 Twice As Bad As Love – 4:15
21 Father's Son – 3:37
22 Gimme Sunshine – 3:55
23 Black Clouds – 4:48
Music Direct has the release listed on their site with date TBA, but lists the price as $64.99.