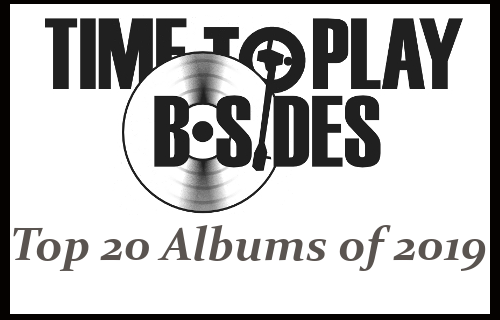 It's that time of year again when I try to remember what I listened to for the last 12 months and also when I peruse the other Top Lists from other websites to see what I missed. Considering the state of flux and chaos that the music industry is in regarding musicians getting paid, the amount of new and essential releases that come out still amazes me.
2019 was a pretty strange year all around, but in the music industry we had the big kerfuffle over Taylor Swift's catalog being sold as part of the acquisition of Big Machine by Ithaca. I doubt that she's in any risk of losing her position as one of the richest musicians in pop today, but certainly she doesn't have control over where or how her music is being used. She's not the first artist to fall into the trap of trading control for album advances and she won't be the last, I'm afraid.
Speaking of Swift; Ryan Adams, who did a track-by-track cover of her 1989 album in 2015 was exposed by The New York Times as being a sexual predator, misogynist and possibly a pedophile. For longtime fans (who include me) this was pretty earth-shattering. I've covered Adams a lot on this site over the years and was aware of how unstable he seemed to be, but never thought he was someone who was abusive to fellow artists (usually demanding quid pro quo sexual favors to help their careers.) Then there are the accusations about the inappropriate relationship he had with a minor. He denies all of this and there hasn't been any legal reaction to any of this that we're aware of, but Blue Note cancelled the trifecta of records he was going to release this year. He's been largely silent since this came out, but in recent weeks he's been testing the social media waters with some posts. I have a feeling that with enough passing of time, people will forget this and he'll likely come back. The history of pop and rock music is dotted with stories like his (and in some cases mythologized– yikes). For now my RA albums are in a box on a shelf in the basement.
2019 was also the year of Lizzo. Her career took a really steep arc this year with her much-anticipated full length release on her new label home Atlantic. The singles have been all over the place, and "Juice" becoming the anthem. I had been following her career prior to her move from the Twin Cities to L.A. but admittedly Cuz I Love You isn't on my Top 20 because I didn't listen to it this year other than the singles and videos. Her Tiny Desk Concert is AMAZING, btw.
2019 marks the tenth year I've been writing for Little Village Magazine, I wrote a lot of reviews for Little Village Magazine this year covering what I think has been the most exciting year yet for Iowa music. It seemed like new records were coming out every week from new bands, and existing bands and artists came out with career-defining releases. I launched a streaming music video channel on SBTV.com called The Fly-Over Music Hour. Its focus is on Midwestern bands and artists who have created great music videos. SBTV.com is a video streaming platform that TV stations use to stream content they create and own ad supported. So, you can watch the news and other original content from stations across the US. The Fly-Over Music Hour is an example of a 24×7 channel of original content intended as kind of an example that stations could duplicate in their markets, but also it gives me a chance to shine a light on some of my favorite music coming out of this area. There are apps for iOS, Android, FireTV, AppleTV as well as on the web. You can visit it at https://sbtv.com/flyover
Here are my Top 20 albums of 2019 (in no particular order):
Dickie – Minus Thieves – Singer-songwriter Dick Prall is back with his second album under his band name Dickie. For Minus Thieves the band has a new lineup with multi-instrumentalist and drummer Billy Barton. This album continues the largely autobiographical songwriting from Prall, but takes a more outward view than the 2015 self-titled release (which made my Top 20 list for that year, too). The production was handled by Pat Sansone from Wilco and engineer Josh Shapera and takes a more stripped-down and guitar driven spin than the typical chamber pop we're used to, which puts the focus appropriately on Prall's vocals and lyrics. My review of Minus Thieves for Little Village.
Beth Bombara – Evergreen – It's a good year when we get a new album from Beth Bombara. I loved her 2017 release Map and No Direction (which made the Top 20 for Play B-Sides that year). Evergreen continues the rock leanings she established on that release. This album compares favorably to releases from folk rockers like Sheryl Crow and Aimee Mann. This is an album I think I played more than any other this year. She released a really great video for the album which takes my two favorite songs and stitches them together into one video.
Shane Leonard – Strange Forms – I can't say enough about Shane Leonard's last two records. Printer's Son under the moniker Kalispell really took me by surprise when it came out in 2016. Daringly personal and beautiful across the board. Strange Forms from this year picks up where Printer's Son left off and continues the journey exploring familial roles and relationships and exploring his new role as a father and husband. To me these two albums belong together. It's worth a listen if you're into the more acoustic sounds of Bon Iver or Elliott Smith's later albums. His writing style always makes me think of Aimee Mann's later works, too.
John Coltrane – Blue World After the surprise release of Both Directions At Once in 2018, I wasn't really expecting another "lost" Coltrane album to come out. But, happily we got one in 2019 thanks to a soundtrack he recorded for a Canadian film in 1963. I don't think that this release is particularly essential in his catalog as it documents a small window in his career, and is comprised primarily of new recordings of earlier songs. But, it ends up being very listenable and Blue World ends up being a nice alternative to some of my most-spun releases in his catalog (Blue Train, A Love Supreme). My "Deeper Dive" article about Blue World.
The Diplomats of Solid Sound – A Higher Place It's hard to believe that it had been over nine years since the previous release from The Diplomats of Solid Sound. I suppose from most peoples' perspective the band had merely broken up, but Doug Roberson had been bringing the band out for live shows, so anyone paying attention knew it was still a going concern. A Higher Place sees the reunion of the Diplomettes as a trio with Abby Sawyer rejoining the band, and it is wonderful to have her back. My review of A Higher Place for Little Village Magazine.
Hiss Golden Messenger – Terms of Surrender While not at the rate of releases from, say Thee Oh Sees or King Gizzard & The Lizard Wizard, we've been blessed with regular releases from Hiss Golden Messenger— nearly every year since 2010's Poor Moon— and this doesn't include the occasional EP or digital single. The recording of Terms of Surrender comes on the heels of a very dark time for him personally, resulting in a record that feels more personal than the previous ones. Aside from that, the record carries the same groove we've come to expect and ended up being a regular rotation for me.
Halfloves – Dazer Iowa City band Halfloves came back with their sophomore album in 2019. Their 2016 self-titled release came along with a band renaming (formerly the Olympics) and the firm hand of Brandan Darner who helped the band watershed their new sound and direction. For Dazer the band is rejoined by Darner and while they still carry their trademark dark pop, the three years since the first album has focused their sound producing a beginning-to-end stunner with a big sound. My review for Little Village.
Subatlantic – Villians The debut LP from Quad Cities band Subatlantic came out in 2019. Subatlantic was a band that I had been keeping an eye on because a lot of my friends in the Quad Cities were talking about them. Villains is a wonderful record with a kind of 90's shoegazer sound. Rebecca Rice's vocals and lyrics are wonderful reminding me a bit of Throwing Muses or The Cranberries. My review for Little Village.
The Maytags – Meriweather – Des Moines R&B outfit The Maytags' album Meriweather is a departure from their more classic R&B sound on their 2016 release. Work schedules of the members resulted in a more stripped down approach which at times sounds like Prince's classic Minneapolis sound. My review for Little Village.
Pieta Brown – Freeway – In 2014 Pieta Brown released her last album on Red House Records. Paradise Outlaw was recorded at Justin Vernon's April Base Studios and had some of the extended Bon Iver crew on it (Vernon contributed vocals to one track as well). After an untethered five years where she launched her own imprint Lustre Records and released an EP of outtakes called Drifters in 2015 and an album of collaborations called Postcards in 2017. She also acted in a film during this time. For Freeway, she went back to April Base to record resulting in an album that has a slightly more atmospheric vibe to it than her previous releases. This is due to the use of a band that aren't her normal go-to studio guys. Righteous Babe Records (Ani DiFranco's label) saw fit to release this on pink vinyl and this is the recommended way to consume this record. My review in Little Village.
Crystal City – Three Dimensionality – Dave Helmer and Sam Drella of Crystal City step out of the barstool blues of their previous albums and enlist some very talented friends to create a record with new complex sonic textures drawing from jazz and and leaning a little into the Steely Dan territory. A fantastic record with lots to keep your ears busy. My review for Little Village.
Hex Girls – More of That Cedar Falls proto-punk/no wave revival combo Hex Girls put out their super-high-energy debut record More of That with enough bombast and edgy guitar to make your cool aunt blush (the one who said she read the bathroom walls at CBGB's in NYC in the 80's). My review for Little Village.
Brother Trucker – 5 Legendary Iowa barroom blues rock and country band Brother Trucker put out what I think is their best release this year. It is steeped in brilliant story telling and ripsaw guitar riffs. My review for Little Village Magazine sums it up well, "Most of the songs in the Brother Trucker catalog capture regular lives — like Norman Rockwell paintings of Midwestern life viewed through the bottom of a beer bottle."
David Huckfelt – Stranger Angels I figured it was only a matter of time before we got some solo records from the guys in The Pines. David Huckfelt participated in an artist-in-residence in Isle Royale National Park in Michigan where he watershedded the songs that would end up on Stranger Angels. As I state in the review I wrote for Little Village Magazine, these songs aren't a dramatic departure from the songs that Huckfelt brings to The Pines, but the change of band brings some new edge we don't hear from the atmospheric leanings of that band.
Pink Neighbor – Time Beach Universe This was a really fun discovery for me this year. Iowa City's Pink Neighbor put out their first album and it's a well-executed tribute to the sunny singles of the Sixties from bands like The Zombies and The Mamas & The Papas, but also has a bit of new wavey B-52's vibe. My review for Little Village.
Elizabeth Moen – A Million Miles Away – 2019 was a big year for Vinton, IA native Elizabeth Moen. She released her second album, which was a refreshing departure from her more straight folk of the first record. A funky and edgy release showing Moen figuring out her footing while delivering a soul-laid-bare performance. I played this release a lot this year. She seemed to play pretty much everywhere and even did a tour of Europe. She had a successful kickstarter for her third album, so that will probably be out in 2020!
William Tyler – Goes West William Tyler is a go-to guitarist for a few bands including Lambchop, Silver Jews (R.I.P.) and Hiss Golden Messenger. His solo releases are steeped in the American Primitive guitar tradition but he takes it to a whole new level. I would recommend every album he's put out if you're looking for instrumental guitar. Goes West has a really great, almost cinematic spans to it. Even though it is titled Goes West, it isn't particularly western in theme, but feels like it could be a soundtrack for a film set in the desert and mountains.
Surf Zombies – Return of the Skeleton Cedar Rapids music scene fixture Brook Hoover's Surf Zombies came back in 2019 with their fifth album and second on vinyl (amen). Instrumental surf guitar extravaganza, per usual, but I'm a huge fan of classic surf rock from vintage bands like the Ventures and Dick Dale and newer bands like Los Straightjackets. Return of the Skeleton stands with the best of those bands.
Octopus Live – Cedar Falls bar The Octopus on College Hill has been recording multi-tracks of the bands in the bar as an archival project. This year they pressed a vinyl-only compilation of some of the notable shows dating back to 2017. Bands like TWINS, Elizabeth Moen, SIRES, Holy White Hounds and Brother Trucker all turn in fantastic performances. They only pressed a couple hundred of these, so you don't want to sleep on this. CLICK HERE TO ORDER ONE.
Tripmaster Monkey – My East Is Your West – Quad Cities band Tripmaster Monkey made it to a major label in the Nineties and promptly fell through the cracks of the chaos of record label acquisition hell. The band got back together and worked on new songs resulting in an album that is a distillation and refining of their sound from 30 years ago.