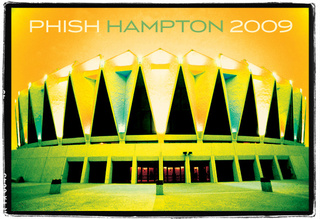 In celebration of Phish's reunion shows– Phish is generously offering 256Kbps mixed, soundboard recordings of their upcoming three-night run at the legendary Hampton Coliseum in Hampton, VA for free download. From their press release:
In celebration of Phish's first shows in over four years, we're thrilled to be able to offer fans free, high-quality downloads of the band's sold-out March 6th, 7th and 8th concerts at Hampton Coliseum in Hampton, Virginia at LivePhish.com.

Each show will be professionally multi-tracked and mixed onsite and within 24 hours, 256kbps MP3s will be made available for free for a limited time at LivePhish.com. Fans who wish to download higher quality versions may purchase FLAC downloads. The shows will also be available on CD. Both are available for pre-order now. Register at LivePhish.com to receive an email when the free MP3s are available.
"We really wanted to show our gratitude to all the Phish fans for their support and the overwhelming response they've had to these shows. It's going to be an amazing celebration and we only wish everybody could be there," said Trey Anastasio.
Hampton Coliseum is notable in Phish's history as being the location for the shows on November 20 & 21, 1998 that was the basis for the six-disc box set Hampton Comes Alive. Hampton Coliseum has been a favorite stop for Phish and these upcoming shows on March 6th, 7th, and 8th mark the 13th, 14th, and 15th time Phish will have played there.
These upcoming shows are also where Phish is looking to legally block the sale of bootleg products like unauthorized "lot shirts" and other paraphernalia with Phish tie-ins. An interesting move considering how ingrained in the jamband scene the lot scene sales have become. Certainly Phish is entitled to defend their very valuable trademark and image– especially since the future of the band seems unclear, and licensing of products in addition to the sale of recordings would be the only way the band could continue to profit if they don't continue to tour.
Update: Apparently Phish is in it for the long haul and have plans to record a new album with a focus on their proggy side!
Click Here to pre-order the three shows in mp3 format.