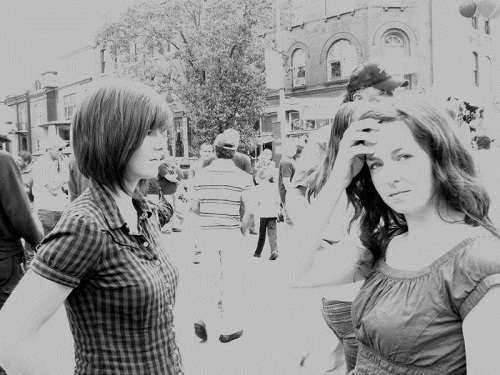 Right on the heels of a successful Kickstarter campaign to raise money to release her new album Wish I Were You on vinyl, St. Louis musician Beth Bombara is setting out to do a quick run through Wisconsin and Iowa to play some shows with her frequent partner-in-musical crime Cassie Morgan. This tour could technically be considered a Cassie Morgan and the Lonely Pine tour (a moniker under which they released Weathered Hands, Weary Eyes in April of this year) and certainly they will be playing together, but there will be some time to shine the spotlight on Beth singing lead as well debuting songs from her upcoming release.
The two of them load up in a car and head to Madison for a show tonight (October 2nd) at The Project Lodge (817 E. Johnson St.) opening for Anna Vogelzang who is having an EP release show. The cover is $6 and starts at 8:30PM. Anna is also starting a tour that will bring her to Dubuque and Iowa City at the middle of the month.
Following the Madison show, Cassie and Beth will be playing a show at Monk's Kaffee Pub (373 Bluff St.) in Dubuque on October 3rd. The lineup of bands will start at 9PM and go until 11PM. While there is no cover charge, tips are always appreciated!
On Tuesday, October 5th Cassie and Beth hit The Mill Restaurant in Iowa City for a 9PM show which will also not have a cover charge. Opening for Cassie and Beth is local folk musician Seth Wenger.
Then the pair return home after the Iowa City show. Beth has a listening party of the new album scheduled at Foam in St. Louis on October 9th (Facebook Event) which will also have  Union Tree Review and Penny Hill performing live.
Here is a recent show with Cassie and Beth performing a set of all Breeders covers. This one is of "Devine Hammer."