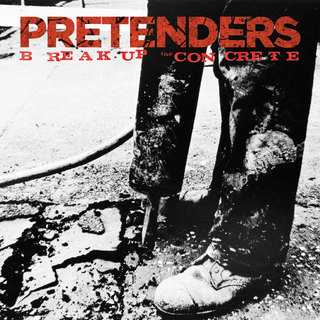 As reported by Billboard yesterday, Chrissy Hynde and company, aka The Pretenders have a new album titled Break Up The Concrete which will be released 10/7 on her new label Shangri-La Music. The album was recorded in 10 days with a mostly-new version of the Pretenders. In addition to original Pretenders bass player Nick Wilkinson, she added James Walbourne and Eric Heywood on guitars and notorious session drummer Jim Keltner. Coincidentally, this week I was just listening to super-group Little Village from 1992 that had Keltner on skins!
The first track "Boots of Chinese Plastic" a rollicking roots-rock twang-fest is available for free download from AOL.com's Spinner.com site via the Pretenders site.
Visit the Pretenders site and sign up for e-mail notifications because the plan is to release one track per week leading up to October 7th from Concrete as mp3's through other website partners including QuickTime, clearchannel.com, cmt.com, ilike, imeem, mp3.com and others. The track available today is a surprising 320Kbps mp3! I hope that the rest of the tracks will be of the same quality! I can't find a track listing for the new album anywhere. Based on the 1-track-per-week, I guess there will be 10 tracks.
Here is the tracklisting (Thanks to user Mark666!):
01 Boots of Chinese Plastic (download from Spinner.com)
02 The Nothing Maker (download from iLike)
03 Don't Lose Faith in Me (download from C|Net download.com)
04 Don't Cut your Hair (download from imeem.com)
05 Loves A Mystery (download from CMT.com)
06 The Last Ride (download from WindowsMedia.com)
07 Almost Perfect (download from Yahoo! Music)
08 You Didn't Have To (download from iheartmusic.com)
09 Rosalee (download from VH1.com)
10 Break Up The Concrete (download from thepretenders.com GarageBand Contest Page) – fill out your info in upper right area of the page which will bring you to a page to download.
11 One Thing Never Changed