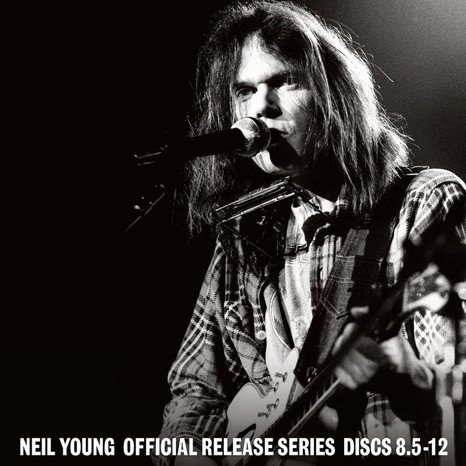 Well, I'll give Neil Young and Reprise Records credit– they're pushing the Official Release Series along. Today, out of the blue, I got an email from PopMarket about the pre-order of the 3rd box set of vinyl reissues from his extensive catalog. If you follow this blog, you know I've been reporting on this series since the first box set from 2009 and including often incorrect predictions about what would be in the next releases. The second box which brought us up to his 8th album set came out in 2014 for Back to Black Friday that year.
The box sets seem to stick with the 4 LP limit and that is further perpetrated with the "joke" in the title of the third box which says it has 8.5 through 12. I speculated back in 2014 that the next box set would take us through Live Rust, and this one does! My only question was whether Young was going to include the essential The Stills-Young Band album Long May You Run. Since the album was half Stephen Stills songs and given the strained relationship the two have had over the years I thought this release might not make a box. So, this box has 5 albums in it, with Live Rust as a 2 LP. This box has an MSRP of $149.99 so that's pretty close to what the last box was. With 5 LPs and one a double, that's a good deal. If you pre-order from PopMarket you can get it for $124.99. Less than $25 per title. Here's what it incudes:
LP 1: Long May You Run (The Stills-Young Band)
1. Long May You Run
2. Make Love To You
3. Midnight on the Bay
4. Black Coral
5. Ocean Girl
6. Let It Shine
7. 12/8 Blues (All the Same)
8. Fontainebleau
9. Guardian Angel
LP 2: American Stars 'N Bars
1. The Old Country Waltz
2. Saddle Up the Palomino
3. Hey Babe
4. Hold Back the Tears
5. Bite The Bullet
6. Star of Bethlehem
7. Will to Love
8. Like a Hurricane
9. Homegrown
LP 3: Comes A Time
1. Goin' Back
2. Comes a Time
3. Look Out for My Love
4. Lotta Love
5. Peace of Mind
6. Human Highway
7. Already One
8. Field of Opportunity
9. Motorcycle Mama
10. Four Strong Winds
LP 4: Rust Never Sleeps (Neil Young & Crazy Horse)
1. My My, Hey Hey
2. Thrasher
3. Ride My Llama
4. Pocahontas
5. Sail Away
6. Powderfinger
7. Welfare Mothers
8. Sedan Delivery
9. Hey Hey, My My (Into The Black)
LP 5: Live Rust (Neil Young & Crazy Horse)
LP 1
1. Sugar Mountain (Live)
2. I Am a Child (Live)
3. Comes A Time (Live)
4. After the Gold Rush (Live)
5. My My, Hey Hey (Out of the Blue) [Live]
6. When You Dance I Can Really Love (Live)
7. The Loner (Live)
8. The Needle and the Damage Done (Live)
9. Lotta Love (Live)
10. Sedan Delivery (Live)
LP 2
1. Powderfinger (Live)
2. Cortez the Killer (Live)
3. Cinammon Girl (Live)
4. Like a Hurricane (Live)
5. Hey Hey, My My (Into the Black) [Live]
6. Tonight's the Night (Live)
So, a mostly strong box set in my opinion. I've never been a big fan of American Stars 'N Bars, but it has some classics, in particular "Star of Bethlehem" through "Homegrown" (which introduces some of the Homegrown unreleased songs). Rust Never Sleeps is the first Neil Young album I ever bought and it's still one of my favorites. Live Rust is pretty fantastic, and the accompanying film got a reissue this year.
My Modified Speculation on the future Official Release Series Box Sets
My previous speculation on the fourth box set left some wiggle room on whether Live Rust would be in it based on how they were going to handle The Stills-Young Band release. But, I think the next couple of boxes will be a tough sell as we start getting into Neil's more experimental period and a litigious label switch to Geffen. We also start running out of "classic" Neil Young catalog, making the general interest in these releases until 21-24 pretty small.
The challenge I see here besides just sales of them, is the groupings of the Reprise and Geffen catalogs. I'm showing these boxes grouped by four chronologically, but the argument could be made to create a "Geffen Years" box collecting just Trans through Life making another 5 LP box (13-17). Then you end up with an improved 5 LP (17-20.5) Reprise box of this period containing Hawks & Doves, Re-ac-tor, This Note's For You and Freedom with a bonus of the Eldorado EP.
The next box in that scenario would be a big-hitter with Ragged Glory, Arc/Weld, Harvest Moon and Unplugged, taking us to 1993 and over 25 LP's.
Neil Young Official Release Series Discs 13-16 could include the following albums: Hawks & Doves (1980), Re-ac-tor (1981), Trans (1982) and Everybody's Rockin' (1983) bringing the first of the Geffen releases to bear.
Neil Young Official Release Series Discs 17-20 could include the following albums: Old Ways (1985), Landing On Water (1986), Life (1987), This Note's for You (1988). The last album marks the return of Neil Young to Reprise Records and the end of a rocky relationship with Geffen Records that ended with a lawsuit from the label accusing Neil of releasing works uncharacteristic of his career. The alternative release for this box would be one that completely encompassed the Geffen Years– especially if 13-16 didn't include Trans and Everybody's Rockin'.
Neil Young Official Release Series Discs 21-24 could include the following albums: Eldorado EP (1989), Freedom (1989), Ragged Glory (1990), Arc/Weld (1991) This box represents a kind of renaissance for Neil Young and an embracing of the louder sound that he trademarked with Crazy Horse. It should include the Eldorado EP since it was a formal release (even though it was only available in Japan and Australia). I would expect to see a tandem release of Times Square— the lost album that ended up making Freedom, Eldorado and This Note's For You. He could release that 20-minute version of "Crime in the City (Sixty to Zero)" as part of that.
With his now 2-year gap between these we'd have these through 2022?