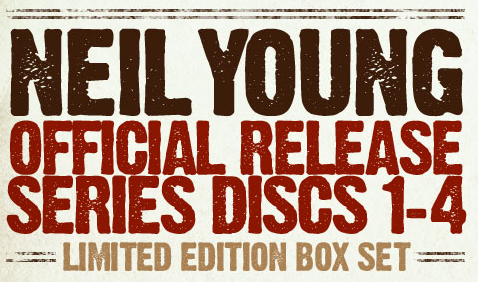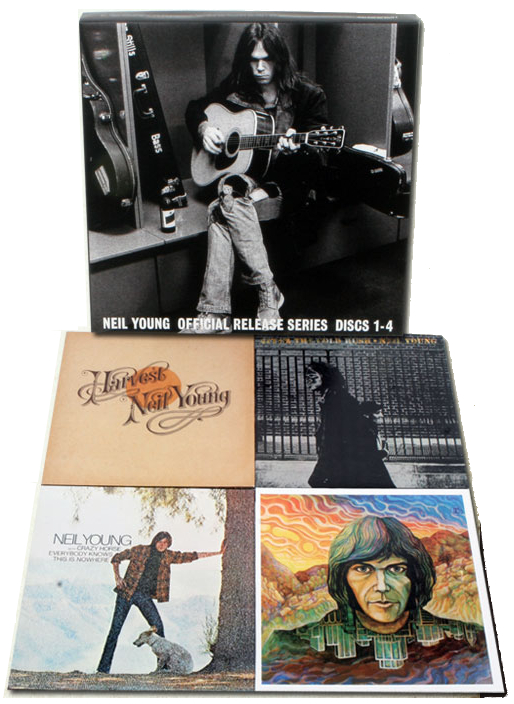 With the eventual release of the Neil Young Archives Volume One  this year which spanned the years 1963 to 1972, that meant that it was time for Warner's to work on the remasters of Neil's releases on vinyl. Most of his popular (sold lots of) back catalog and all of his recent releases have been in print in vinyl for a number of years, but with the work done to release the Archives releases it was time to revisit the vinyl.
On December 1st, a limited edition (3000 worldwide) box set of 180g LP's entitled Neil Young Official Release Series Discs 1-4 will be released and is a remastering of the first four solo Neil Young albums: Neil Young from January 1969, Everybody Knows This Is Nowhere from May 1969, After the Gold Rush from August 1970, and Harvest from February 1972. These four albums are from the same period of time represented by the Archives Volume One.
The records were mastered by Chris Bellman at Bernie Grundman Mastering (source) and pressed by Furnace MFG by their German partner Pallas Group (source) on 180g vinyl. Furnace MFG handled the packaging of the LPs and the box, lovingly recreating the cover art and gold-foil-stamping the serial number on each. In the case of the Harvest LP, they located the last manufacturer in the US that can still make hand-glued gatefold covers to carefully reproduce the original cover. According to the press release, "once the box sets are gone, this limited edition configuration will no longer be available," which I would take to mean that there will be individual 180g pressings of these releases available. Confusingly, a couple of online retailers seem to be touting that they have the individual 180g LP's for sale, but I'm also seeing a "standard" vinyl release, which seems to be a 140g pressing, which is confirmed by the Musicangle.com article referenced above.
In keeping with the  perpetual delay of the original Archives series, we've already experienced one delay with the vinyl box– the original release was going to be 11/24, however there was an e-mail sent out by Warner Brothers late last week that said the new ship/release would be 12/1. Not a big deal, but with all of the press given to the delays surrounding the Archives, this announcement seems ominous– hopefully for no reason.
In any event, this is a respectible effort on the part of Warner/Reprise and really appealing to vinyl collectors. Clearly, Neil Young's catalog is an important one, and these four albums are landmark releases for him establishing him as one of the great songwriters of our time. At $149.98 plus shipping it is a significant investment. If you break down the 180g individual releases– all of the records are around $22 except for Harvest, which is $34– the box set adds a $50 premium on top.
The Archives Volume 2 is reputed to be released in 2010 and should represent the second decade (1973-1982) if they stay with the established pattern. Interestingly, this would mean that the subsequent box would be a real lunker at ten LPs if he chooses to keep Time Fades Away unreleased. I would suspect that he will leave it unreleased based on the first Archives. There was a soundtrack associated with the 1972 film Journey Through The Past which he opted not to reissue, which isn't a huge loss. The film exists as a disc in the Archives, however. This is further substantiated by the fact that Time Fades Away was remastered with HDCD in 1995 according to the Wikipedia article, and was subsequently shelved.
The recorded output represented by Archives Volume 2, then would be On the Beach (1974), Tonight's The Night (1975), Zuma (1975), American Stars n Bars (1977), Comes A Time (1978), Rust Never Sleeps (1979), Live Rust (1979), Hawks & Doves (1980), Reactor (1981), and finally Trans (1982). Trans will be the first appearance of Neil's controversial Geffen years. I'm not sure if any of these releases were gatefold, so I'd estimate this box to cost over $220. Live Rust was two LP's so it will likely cost more than the other releases.
Likely, though, the sheer weight of a 10-180g-LP box would prevent one monolithic box and will probably come out as two 5-LP boxes. This is possible since the contents of the current box is designated simply by "Discs 1-4," so there could be an Official Release Series Discs 5-9 and Official Release Series Discs 10-14.
Click Here to order the Neil Young Official Release Series Discs 1-4 from BecauseSoundMatters.com