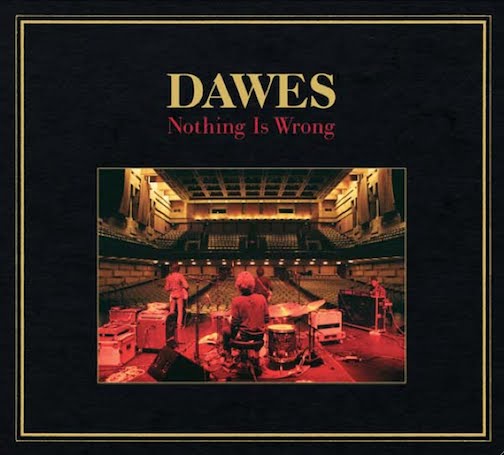 The much-anticipated sophomore release from North Hills, CA band Dawes was announced yesterday to much joy (at least around here…). The album called Nothing Is Wrong with the artwork above will come out on ATO Records which was the home of North Hills— the band's first release. Following the astonishing success of their first album and in particular the amazing "When My Time Comes" which ended up in a Chevrolet trucks commercial– Nothing Is Wrong is a tough act to follow. Thankfully, the band has been playing songs from the new album for over a year, so we already know that there are some contenders on this album as well. Looking at the tracklist below, we see that "Million Dollar Bill" which was also a Middle Brother track makes an appearance as well.
The original North Hills album came out on 2 LP 45 RPM 180g vinyl. I confirmed with Taylor Goldsmith that there will indeed be a vinyl version of Nothing Is Wrong as well!
To start the buzz, Dawes has made the track "If I Wanted Someone" a free download in exchange of your e-mail address.
Here is the tracklist for Nothing Is Wrong, and I'm providing links to live performances of the songs from archive.org:
1. Time Spent in Los Angeles 2-13-10 2-15-10 5-14-10
2. If I Wanted Someone 2-13-10 2-15-10 5-14-10 6-27-10 11-13-10
3. My Way Back Home 11-13-10
4. Coming Back to a Man 1-23-11
5. So Well 7-4-10
6. How Far We've Come 9-12-09 10-09-09 10-12-09 10-24-09 2-15-10 5-14-10 11-20-10
7. Fire Away 5-14-10 6-17-10 11-20-10
8. Moon in the Water 2-15-10 11-13-10
9. Million Dollar Bill
10. The You Laugh 1-23-11
11. A Little Bit of Everything 11-13-10
Here are the upcoming Dawes shows (from the Dawes website):
May
05 – Houston, TX – Fitzgeralds
06 – Austin, TX – La Zona Rosa
07 – Dallas, TX – Granada Theatre
09 – Orlando, FL – Beacham Theater
10 – Ft. Lauderdale, FL – Culture Room
11 – Tampa, FL – State Theatre
12 – St Augustine, FL – Cafe 11
13 – Atlanta, GA – Variety Playhouse
14 – Birmingham, AL – Secret Stages Music Festival (2PM)
14 – Nashville, TN – Cannery Ballroom
15 – Asheville, NC – Orange Peel
17 – Charlotte, NC – Visulite Theatre
18 – Carborro, NC – Cat's Cradle
19 – Athens, GA – Melting Point
20 – Chattanooga, TN – Nightfall Series (Free Show)
23 – New Haven, CT – Toad's
24 – Portland, ME – State Theatre
25 – Northampton, MA – Iron Horse
26 – Burlington, VT – Higher Ground
27 – Montreal, OC – Le National
28 – Toronto, ON – Opera House
29 – Detroit, MI – St. Andrew's Hall
June
01 – Louisville, KY – Headliners
02 – Indianapolis, IN – The Vogue
03 – Chicago, IL – The Vic Theatre
05 – Hunter, NY – Mountain Jam (1:30PM Set)
06 – St. Louis, MO – The Pageant
07 – Louisville, KY – Iroquois Ampitheatrer
08 – Columbus, OH – LC Ampitheatre
09 – Pittsburgh, PA – Stage AE – Indoors
10 – Philadelphia, PA – Mann Center for Performing Arts
11 – Vienna, VA – Filene Center at Wolf Trap
13 – Vancouver, BC – Vogue Theatre
14 – Seattle, WA – Moore Theatre
15 – Portland, OR – Crystal Ballroom
16 – Bend, OR – Athletic Club of Bend
17 – Chico, CA – El Rey Theatre
18 – Los Angeles, CA – Orpheum Theatre
20– San Diego, CA – House of Blues
21 – Tucson, AZ – Rialto Theatre
22 – Phoenix, AZ – Marquee Theatre
23 – Las Vegas, NV – Silverton Casino
24 – Reno, NV – Knitting Factory
25 – Oakland, CA – Fox Theatre
July
02 – Emeryville, CA – High Sierra Music Festival
07 – Winnipeg, MB – Winnipeg Folk Festival
08 – Winnipeg, MB – Winnipeg Folk Festival