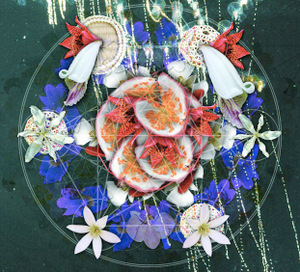 Richmond, VA quartet ILAD had released two albums before I had heard of them. Their second album National Flags— released in 2007– was recorded at Soma Studios in Chicago and produced by John McEntire of Tortoise and The Sea and Cake.
In an interview with RVA Magazine, singer/guitarist Clifton McDaniel said that they wanted to work with McEntire because they felt a connection with the Chicago scene. In fact, their brand of country folk psychedelics reminds me a lot of Califone, so the affinity for experimentation and working with sonic textures makes sense. Clifton went on to say that after they recorded National Flags and handing the reins of production over, they decided that they wanted to take a different approach with Here//There, their new album which was released on July 28th, again on the band's own label SYJIP Records. Some of this change in direction lies in a pride in being part of the growing Richmond, VA music scene which I think motivated ILAD to record with local producer Lance Koehler and studio at Minimum Wage Studios.
Listening to National Flags and Here//There side-by-side shows that National Flags has a more cohesive feel to it– certainly the sign of the band turning itself over to McEntire. Here//There seems to show the ILAD's ability to transform itself for each song. Ultimately this makes for a difficult sitting with the album if you're looking for a record that has one mood or feel to it.
The band has an impressive array of styles to draw from and I bet a live show from them would be quite an experience. I will say that they did a good job of sequencing and mastering this record because even though they shift stylistically throughout– it isn't jarring.
Here//There kicks off with an Eastern-influenced "TV Sutra" that reminds me of a raga. Layered percussion and persistent shaker and dreamy almost stream of consciousness lyrics cover long-distance voices. "We're All Boiled Over" is the mantra. A very smooth complimentary seque to "Conservation" is accomplished by arpeggio-picked guitar in the same beat as the previous song.  The 4/4 beat that is introduced here which sets us up for the swirling and driving "Magazine." The vocals are distorted and urgent with the only recognizable phrase being "Jesus Christ."
Once we've hit the loping "Mexico" we've moved into the most conventional part of the album. "We'd all go down to Mexico where the women taste like wine, bathe in sunshine, drunk with hope" the song starts.  The song has an aching beauty to it that reminds me a bit of the best songs from My Morning Jacket– but not content with the direction of the song, ILAD at 3:50 or so decides to send the song into a Doors-like jam led with electric piano and nature sounds that carries the song to its 6+ minute conclusion with a fade out.
At this point we are propelled into the driving possessive and pissed-off rant fueled with slide-guitar and shuffle that is "Blackgold." "Please don't call me liar– asshole! Please don't call me liar– asshole!" I don't presume to know who the narrator is, but clearly his lady has been infringed upon and he's retaliating with guitar and drums!
But, the anger doesn't last long as we drop into the floating "I Just Stopped By" with its percussion and guitar lifted deftly from "Over My Head" by Fleetwood Mac. Indeed the song itself echoes its sentiment of "I'm just passing through" as it is a momentary stop before it hits the very proggish and climbing instrumental "Wish For a Flood" which provides the complimentary beat to the following song "Lou Dobbs."
"Lou Dobbs" kicks off with an interesting driving snare and cymbal that reminds me a bit of "Gotta Jibboo" by Phish but never really delivers on the anticipated crescendo and in fact just falls apart at the end. The lyrics seem to be making a statement about government fueled war, but does nothing but make a weak and unsubstantiated accusation.
We are given another great prog track at the beginning of "I'm Not Mean"– I realize at this song what a great drummer Scott Clark is, and it's his ability to be amazingly diverse that provides the framework and backbone to the explorations ILAD undertakes. I love the transition "I'm Not Mean" makes at the 2:28 mark. The song switches completely into a jazz workout that is one of the glimmering, unexpected and transcendent parts of the record.
From here we're moved to a  stripped-down, vocal-and-acoustic guitar arrangement in "Everyone Hurts (Everyone). The slightly off tune delivery helps deliver the song's plaintive meditation– "I can't tell whose side I'm on anymore."
This mournful emotion is followed by "Extraordinary Machine" with the opening slightly above a whisper mantra where every line ends with "ary." "Nature is so imaginary/nature's so imaginary/machine so extrodinary/, etc." At two minutes the snare kicks in and helps drive the song, and a 2:43 we get kind of a disco 8's on the highhat with slinky bass and shimmery electric piano mellow groove. The song doesn't really ever change keys or even switch in sections– it just builds off the previous one. Around 4:30 that groove breaks and reveals a snippet of a different song with its refrain "I'm coming home."
"Everybody" is another song that rides a single groove throughout its four minutes. It's almost a transitional song to get us to "Tiny Dream." "Tiny Dream" is another chanting song with organ and picked guitar riding on a funky-drummer beat providing a pleasant groove, that builds to a "Bittersweet Symphony-ish" string crescendo. It's over in a 2:32– I would have liked to hear that song explored a bit further.
The album closer "Church" is a stripped down slow tempo gospel-of-sorts that presents a reflective message to wrap things up. Whoever is singing this song reminds me of Daniel Ash of Love and Rockets a bit on this one.
Taken in total, Here//There is– to coin a cliché– a musical journey. I wouldn't go so far as to suggest that this album is a concept album, but all of the songs seem to make more sense in the context of the other songs. It is an album that really demands consuming in one sitting. I can see the challenge the band would have promoting this album in that no one song on the album is really representative of the rest of it.
It sounds like the Richmond, Virginia area is rich with a growing music scene that is trying to make its mark. ILAD shows the DIY attitude of the area and the potential it has. I think ILAD is a band to continue to watch and based on the performances I've seen online so far, delivers a great live show and one I'd like to catch if they make it this far inland.
Click Here for ILAD's website
Click Here for ILAD's MySpace page
Click Here to listen to "Magazine" from Here//There
Here is the video for "Tiny Dream"