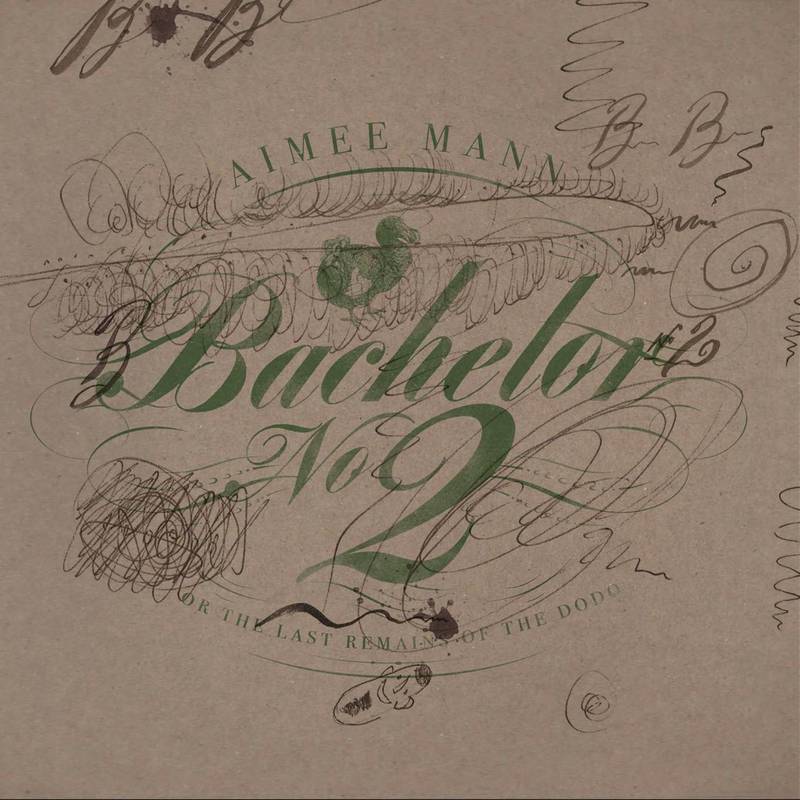 I'm a sucker for earnest songs about heartbreak. Clearly.
When I watched Paul Thomas Anderson's film Magnolia, I was struck by the songs from Aimee Mann. Like many, I was familiar with her band, the MTV darlings Til Tuesday, but I hadn't really kept up. Though, there wasn't much to keep up with. The classic yarn of a band breakup followed by a couple of brilliant solo albums that her label didn't know what to do with caused her to crash land in 1999 with no label and a record in the can that wouldn't be released.
As the story goes, Paul Thomas Anderson was moved enough by the demos of this album to craft Magnolia around it and get some more songs from her. He connected to Mann through her husband Michael Penn who scored Anderson's first two films. She got an Oscar nom for "Save Me" (a song that was written for the film).
I rewatched Magnolia recently. A horrific storm called a "derecho" blew 130+ MPH winds across Iowa, removing over 65% of the tree cover of Cedar Rapids and knocking power out for days and cell service and internet for weeks. Once power was restored, my wife and I still didn't have internet and cell service was spotty, so we took to digging through our sadly-neglected collection of DVD's and Blu-Rays for stuff to watch. We hadn't seen it probably since I bought the DVD when it came out in 2000. The film's three hours is not an easy watch, and twenty years later the heavy-handedness of the story arc and plot devices seems almost dated. Considering this was Anderson's carte blanche film following the breakout success of Boogie Nights, it's apparent he was pulling out all of his directorial tools for this. The soundtrack and score of the film end up being an essential part of the narrative with songs belonging to the characters, the culmination of which is when the film pauses for the characters to sing "Wise Up."
This part of the film was a real lump-in-the-throat moment for me and how I became a fan of this soundtrack and Bachelor No. 2. I wrote an article back in 2008 proposing a mix people could make of the two CD's to make a perfect version of the album.
Bachelor No. 2 was released in May 2000 on Mann's own record label Super-Ego Records. It included "How Am I Different," "Deathly," and "You Do" from Magnolia. "Nothing Is Good Enough" appears on the soundtrack as an instrumental. Interestingly, "Wise Up" was originally intended for the film Jerry McGuire. A really great article breaking down the soundtrack by A/VClub by Alex McLevy makes the observation that in a literal sense the song says that the film "is not going to stop" until the characters wise up. Certainly the scene in the film where the characters sing "Wise Up" is a point of inflection.
According to the Wikipedia article on Bachelor No. 2, Mann secured a distribution deal after selling the album from her website and Soundscan data as of 2008 showed that 230,000 copies had been sold.
In 2006, Mobile Fidelity Soundlab corrected sin of this album not existing on vinyl by pressing a limited run of 200g half-speed mastered LP's based on the original US CD (which means it doesn't have "Save Me" on it in place of "Driving Sideways" as the UK version did). These days copies of this are running around $200 and I was keeping an eye out to see if any might show up for a deal.
Thankfully, Aimee Mann is reissuing Bachelor No. 2 for its 20th anniversary for Black Friday Record Store Day as a 2 LP expanded version taking the original album and adding the Magnolia songs at the end. (this approach makes sense since it is a reissue of Bachelor No 2 primarily, but I think my mix is more fun) as well as a re-recorded version of "Wise Up." Looking at Amoeba's website, it will be priced at a reasonable $34.98. This is being touted as an "RSD First" which means that it will be generally available after RSD, though it's hard to tell if the 4000 copies they're showing is the total of all of the pressings or just what is available for RSD.
It will be interesting to hear that new version of "Wise Up." If I had to guess, it probably removes the drum machine. In the press release she mentions that she "used a lot of drum loops" and nowhere is it more apparent than on "Wise Up." Though for me, that works great.
The Super Ego Records twitter account posted the packaging: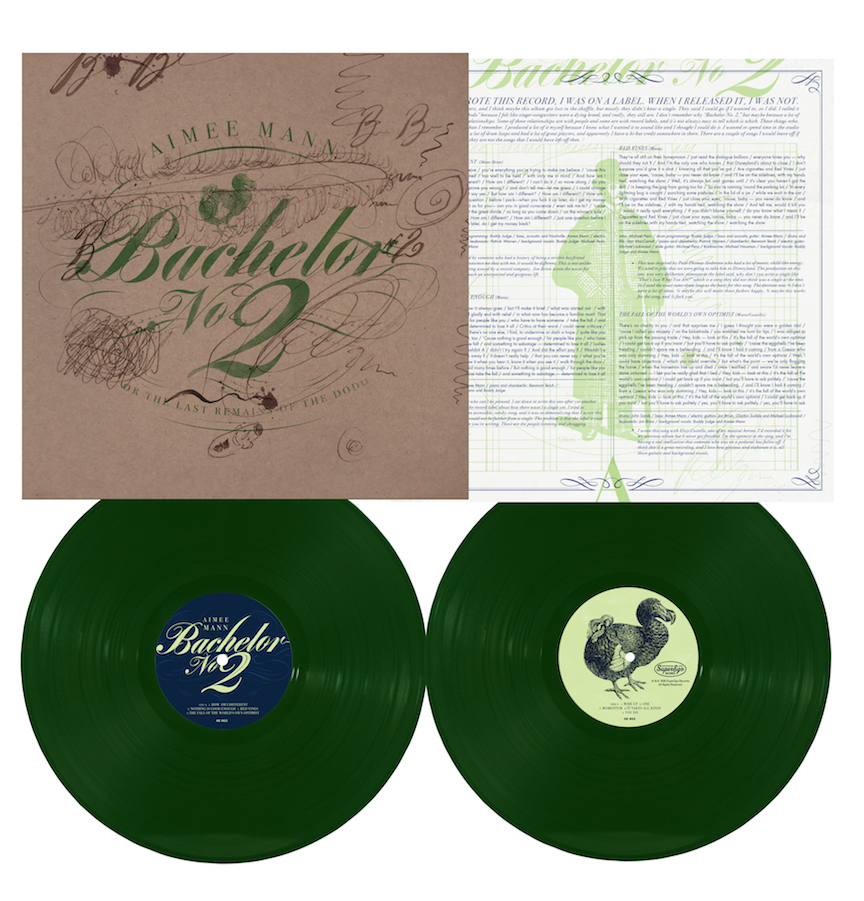 The packaging is really nice with what appears to be a version of the cover art that looks like someone practicing calligraphy over it. The green vinyl and labels are gorgeous.
Here is the track listing from The Vinyl District (which had it by sides).:
Side A
How Am I Different
Nothing Is Good Enough
Red Vines
Optimist
Side B
Deathly
Ghost World
Calling It Quits
Satellite
Side C
Save Me
Driving Sideways
Just Like Anyone
Susan
It Takes All Kinds
Side D
One
Wise Up Re-record
Momentum
Build That Wall
You Do