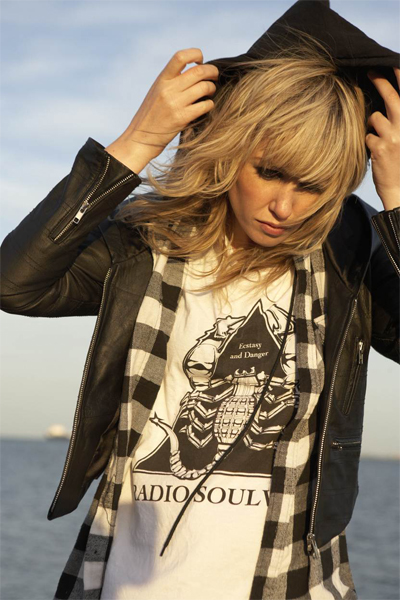 One of our favorite albums from 2008 was the debut release from New Zealand artist Phillipa "Pip" Brown who performs as Ladyhawke (yes, after the Rutger Hauer film of the same name). Released on Modular Recordings– also the home of Cut Copy– it launched four very successful singles in "Magic," "Back of the Van," "Paris is Burning," and "My Delirium."
How this record managed to not have a U.S. release before now seems unimaginable, but September sees the release of Ladyhawke in CD and LP on Universal/Decca Records in a Special Edition with bonus tracks.
Coinciding with this release is Ladyhawke's first US tour which as luck would have it brings her to the Midwest in Chicago and Minneapolis. This tour is being sponsored by celebrity mud-slinger Perez Hilton under the "Perez Hilton Presents" banner. This questionable vehicle aside, Hilton seems to have the good taste to include Pip in the lineup of otherwise unfamiliar (except for Ida Maria, I guess) acts.
The tour stops at The Metro in Chicago on Saturday, September 19th and Minneapolis at the Fine Line Music Cafe on Monday September 21st. Both stops have the same lineup– Ladyhawke and Ida Maria as co-headliners and Semi-Precious Weapons from NYC and French electro-pop musician Sliimy.
The tour seems to be providing a fairly wide selection of artists and music (at least within whatever Hilton's tastes are). At least in the Chicago and Minneapolis stops, we have dancy late 70's/early 80's new wavy rock from Ladyhawke, punky indie rock from Ida Maria, Semi-Precious Weapons sounds like The White Stripes-gone-Glam (a good thing, I think), and Sliimy provides a French-pop perspective.
Four diverse acts for under $30! The ticket prices seem to vary. If you get the Minneapolis tickets from Ticketmaster, they are a flat $25 (no fees!), but if you get the tickets from The Fine Line boxoffice, they are $18.  The Metro tickets are $17.50 from Metro on line (plus fees). So, visit the sites to find out the best way to get tickets.
Here are the other dates for the Perez Hilton Presents tour:
September 10th – Atlanta, GA – Variety Playhouse
September 12th – Washington, DC – 9:30 Club
September 13th – Philadelphia, PA – Theatre of the Living Arts
September 14th – Boston, MA – House of Blues
September 16th – New York, NY – The Fillmore @ Irving Plaza
September 17th – Toronto, ONT – Opera House Concert Venue
September 19th – Chicago, IL – Metro
September 21st – Minneapolis, MN – Fine Line Music Café
September 22nd – Milwaukee, WI – Turner Hall Ballroom
September 23rd – Kansas City, MO – The Beaumont Club
September 25th – Denver, CO – Bluebird Theater
September 26th – Salt Lake City, UT – Club Sound
September 28th – Seattle, WA – The Showbox @ The Market
September 29th – Portland, OR – Wonder Ballroom
September 30th – San Francisco, CA – The Fillmore
October 2nd – San Diego, CA – House of Blues
October 3rd – Hollywood, CA – Avalon
Click Here for the Ladyhawke Official Website
Click Here to download a free remix of "My Delirium" hosted at RCRD_LBL
Click Here for the Ida Maria Website
Click Here for the Ida Maria Daytrotter.com Session
Click Here for the Semi-Precious Weapons Website
Click Here for the Sliimy Website