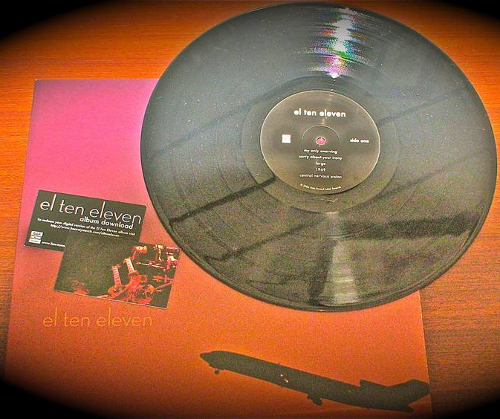 I originally found out about the instrumental duo El Ten Eleven from my friend Erik who had heard them on his "Tortoise" Pandora station. He ordered their self-titled CD and shared it with me. Their chimey and buzzy guitar, drums and keyboards fit well with my regular diet of post rock bands like Trans Am and Tortoise. Their debut album provided an impressive five tracks to the soundtrack to the documentary Helvetica by Gary Hustwit.
According to the band website, El Ten Eleven's debut album is being reissued on 180g vinyl with mp3 download by Bar None Records— the label the band was on for this album. Limited to 1000 copies.
El Ten Eleven just finished recording their new album to be titled It's Still Like A Secret. Currently without a label, the band is reaching out to fans to build an investment base for the release. Options spanning from a $30 pre-order of a signed copy to a frankly very reasonable $750 donation which gets you the signed release, Executive Producer credit and an hour helicopter ride around Los Angeles piloted by Kristian Dunn. Other pricepoints include lunches and phone calls– for $100 you get a signed copy of the album and the option of punching Tim Fogarty in the face (with a boxing glove). I love seeing these kinds of inspired investment models being done by bands.
Click Here to download "Lorge" from El Ten Eleven
Click Here to order El Ten Eleven on limited 180g vinyl for $20 + shipping.