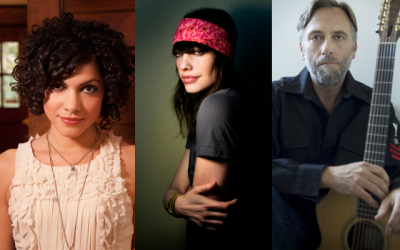 Though we don't get this fantastic show on Iowa Public Radio, Acoustic Cafe is an independently-produced 2-hour radio show hosted by Rob Reinhart focusing on a wide variety of music, but tending to center on the "unplugged" side of things.
Acoustic Cafe also sponsors a tour, and for some of the dates on their evening tour Pieta Brown is joining the 2nd half of the run replacing Erin McKeown in the lineup with also includes Carrie Rodriguez (who Pieta toured with in 2011) and Kelly Joe Phelps. This is the lineup that will be gracing the big stage at Legion Arts/CSPS on Tuesday, January 31st.
We always welcome a chance to see Pieta live, and it will be great to see her at the remodeled CSPS along with a couple of complimentary acts like Rodriguez and Phelps. Rodriguez's latest album is We Still Love Our Country, which is an album of covers with collaborator Ben Kyle of Minneapolis band Romantica. Phelps has been recording since 1994, and his latest album Western Bell came out in 2009 and is a beautiful John Fahey-esque album of instrumentals. While I'm sure he will perform songs from all points of his career– I'm hoping he includes some of these instrumentals!
Click Here to read my review of Pieta Brown's new album Mercury that I wrote for Little Village Magazine.
An Acoustic Cafe Evening with Pieta Brown, Carrie Rodriguez and Kelly Joe Phelps will happen at 7PM on Tuesday, January 31st. Tickets are $17, $21 at the door. Visit the Legion Arts website for more details.