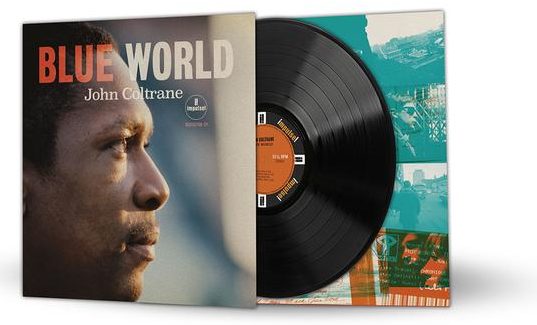 Impluse!/Universal has dropped another surprise John Coltrane release! Just over a year ago they announced the Both Directions At Once release of sessions from 1963– the tapes of which came from Coltrane's personal collection of demo reels.
Titled Blue World, the album (out September 27th) is made up of recordings Coltrane's classic quartet with Jimmy Garrison, Elvin Jones and McCoy Tyner tracked on June 24, 1964 at Rudy Van Gelder's studio in Englewood Cliffs, NJ. These songs were tracked for Quebecois film producer Gilles Groulx to be used for his film Le chat dans le sac ("The Cat In The Bag"). The songs were mostly new recordings of songs from Coltrane's catalog plus a new song "Blue World" (which, according to an article by NPR, was itself a variation of a previously-recorded song the pop standard "Out Of This World" by Harold Arlen-Johnny Mercer). Revisiting previous works in the studio isn't something Coltrane had done before, or from what I can tell, since. This gives us a unique way to view the development Coltrane and band were going through by comparing previous recordings to these reinterpretations.
The first thing I did when I heard about this release was to check my faithful jazz session database at jazzdisco.org and it was missing! This has since been remedied as the details of this release came to light. According to the interview with Barbara Ulrich (who played the lead also named Barbara in the film) for the liner notes (written by Jazz scholar Ashley Kahn) of the release quoted in the NPR.org article, Groulx was a fan of John Coltrane and it was through an acquaintance that he knew Jimmy Garrison which was likely the connection to Coltrane's involvement in the film. Groulx attended the recording session on June 24th and was handed the 37-minute 1/4″ mono tape at the end of the session. Since it wasn't an official release and these sessions weren't part of an album recording, they didn't make it to the database.
In the Rolling Stone article about the Blue World release, they quote Ulrich's recollection of the session. Groulx hadn't started filming, so Coltrane wasn't working from the film itself. In the end, he only used 10 minutes of the 37-minute session.
"Gilles had a list of the music he wanted and later he told me when he gave the list to Coltrane, Coltrane said, 'Okay, I can do this — I can't do that, it's not mine. OK I get it, I know what you want.' Then they just started jamming and recorded for several hours. Then Rudy gave Gilles the tape and that was it. When he got back he was absolutely ecstatic. He knew exactly where he was going to use the music in the film."
In Eric Fillon's dissertation on the film in his paper "The Cinema of the Quiet Revolution: Quebec's Second Wave of Fiction Films and the National Film Board of Canada, 1963-1967" he explains how Coltrane came to be part of the film:
Le chat dans le sac featured an original score by John Coltrane, an African American saxophonist whose music was often associated with Black Nationalism. The film's jazz soundtrack was dans l'air du temps [current fashion]. It echoed Louis Malle's Ascenseur pour l'échafaud (1958) and John Cassavetes' Shadows (1959) which featured contributions by jazzmen Miles Davis and Charles Mingus. However, the music also serves to validate the language of decolonization which Claude deploys throughout the film. Groulx's main protagonist reads Frantz Fanon's Les damnés de la terre, Louis E. Lomax's La révolte noire and Parti pris. Claude, a [Quebecois separationist revolutionary] , listens to jazz as he plans his revolt. …. Coltrane's music legitimizes Claude's quest for emancipation in ways that Barbara cannot.

The Cinema of the Quiet Revolution: Quebec"s Second Wave of Fiction Films and the
National Film Board of Canada, 1963-1967 p 60
The Rolling Stone article says that the tape eventually made it to the National Film Board of Canada and that was how Impulse! came to get it early last year. The National Film Board of Canada was the organization that underwrote Le chat dans le sac originally. There is a funny story in the Fillon paper I quoted above about how the NFB was only interested in producing television content at the time that Gilles Groulx was working with them. Groulx agreed to shooting a TV show, and apparently gave them the Canadian theme of "snow" for this project. Instead he took the funds and shot Le chat dans le sac.
Here are the tracks on the album along with my notation of which album the original version is on. It's interesting, if not notable, that "Naima" from Giant Steps and the two songs from Jazz ("Village Blues", "Like Sonny") were all recorded originally during the same sessions in 1959 and 1960. In many ways Jazz can be looked at as the outtakes from the Giant Steps sessions.
TRACKS
SIDE A
1 Naima (Take 1) (4:34) originally on Giant Steps (1959)
2 Village Blues (Take 2) (3:41) originally on Jazz (recorded 1959, released 1961)
3 Blue World (6:08)
4 Village Blues (Take 1) (3:51) Jazz (1961)
SIDE B
1 Village Blues (Take 3) (3:45) Jazz (1961)
2 Like Sonny (2:43) originally on Jazz (1961)
3 Traneing In (7:42) originally on John Coltrane with the Red Garland Trio (1958)
4 Naima (Take 2) (4:10) Giant Steps (1959)
Blue World has been mastered from its original mono analog tape by Kevin Reeves at Universal Music Mastering in New York. The new 180g vinyl edition's lacquers were cut by Ron McMaster at Capitol Studios.