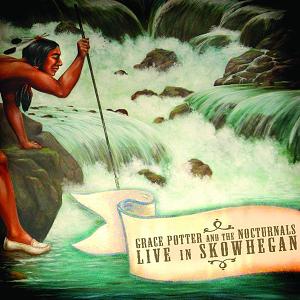 The last couple of weeks finds Grace Potter fans with a couple of digital releases to tide them over until the new album comes out next year. Last week had an abbreviated set on Daytrotter for download, and today– just in time for Christmas– we have an iTunes Exclusive 6-track live EP called Live in Skowhegan which was recorded on June 28th of this year at the Skowhegan Opera House in Skowhegan, Maine.
Clocking in at 35 minutes and 6 tracks, we get a pretty good picture if you will of a Grace Potter and the Nocturnals show. I would have liked to get more of the show, but for $4.99 it is well worth it just for these tracks. We get two new songs in "Can't See Through" and the extended, bluesy "Sugar" in addition to three tracks from Somewhere and "Ragged Company" from Nothing But The Water.
If you got an iTunes card for Christmas, this might be a good way to spend part of it.
Tracklist:
1. Ragged Company (5:22)
2. Stop the Bus (7:45)
3. Apologies (5:35)
4. Ah Mary (4:32)
5. Can't See Through (4:48)
6. Sugar (6:50)
Click Here for the Grace Potter website

Click Here to buy Live in Skowhegan