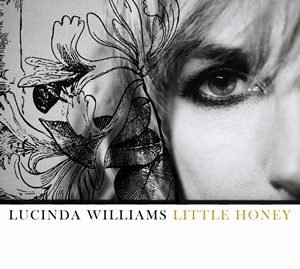 This week Lucinda Williams released a new digital single to Amazon and iTunes of "Real Love" from her upcoming new album due October 14th titled Little Honey (Lost Highway).
Little Honey follows her 2007 release West, which was a favorite here at playbsides last year. On this record Eric Liljestrand moves from the Engineer role he had on West to a Producer role for Little Honey. Lucinda also brings in some guests including Elvis Costello on "Jailhouse Tears" which is being called a "mini drama" (?), as well as Matthew Sweet and Suzanna Hoffs providing vocal duties on "Little Rock Star" — a six-minute song which was apparently influenced by a photo of Pete Doherty in Rolling Stone Magazine. The album also includes a cover of the AC/DC song "It's A Long Way to the Top (If You Wanna Rock 'n' Roll)." Williams describes the album as "eclectic."
Lucinda and producer Hal Willner were so pleased with the basic demo tracks she recorded for West, that he used them in the final album. The result of this was that there was a lot of "bonus" material available in the form of the basic demo tracks. The Best Buy version of West had a second disc with two tracks, there was a separate second CD available via Indie record stores with two tracks, the Japanese version had two additional tracks as well. I hope Lost Highway again brings the bonus material for Little Honey.
Which brings us to the new song "Real Love" available at Amazon and iTunes. The song is pretty much a classic rockin' Lucinda track which– intentionally or not– has lifted the main guitar riff from Jackson Browne's song "Boulevard." It's a good song, and worth the $.99, I think.
TRACKLISTING for Little Honey:
Real Love
Circles And X's
Tears Of Joy
Little Rock Star
Honey Bee
Well Well Well
If Wishes Were Horses
Jailhouse Tears
Knowing
Heaven Blues
Rarity
Plan To Marry
It's A Long Way To The Top
Produced by Eric Liljestrand and Tom Overby