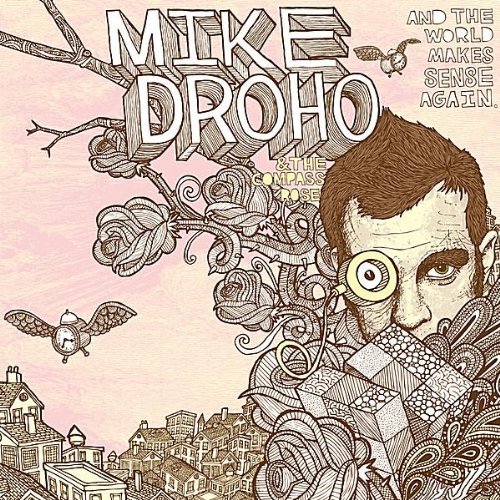 If you're looking for some live music this Memorial Day Weekend, a good way to kick things off would be to catch Madison group Mike Droho & The Compass Rose. Winner of the Project M "Reality" Songwriter Competition hosted by 105.5 FM "Triple M" last year (playbsides favorite Anna Laube is competing this year and is still in the running!), Mike's blend of acoustic pop rock draws easy and frequent comparisons to other guitar-toting singer-songwriters like Brett Dennen and Jason Mraz. Armed with his band The Compass Rose (Ida Pajunen on violin and Anthony Lamar on "vocal percussion" aka "beatboxing"), Mike's songs on his latest release And The World Makes Sense Again are built on perfect vocal harmonies, surrounded by a delicate layer of strings and propelled with the unique "urban" rhythm.
I find Droho has a very strong sense of the pop hook and the songs stick in my head for a good while after listening to them. The album has a breezy upbeat spirit about it (even if the topic of the song isn't)– not particularly confrontational– although not particularly edgy either. The songs are well-balanced and structured with great melodies. I think the standout track on the album has to be "It Was Not Me" with its opening horns and foottapping rhythm and strumming. In fact, it was upon hearing this track on Droho's website that I wanted to hear the rest of the record. This song is available to stream from the Music page on his site. I recommend checking it out. Other songs that stand out for me are "Shame on You" and "Jesus Louise." There is something about "Shame on You" that reminds me of the pining pop songs of the 80's (in fact, the chorus reminds me of Star Search-winning band from Minneapolis Limited Warranty). "Jesus Louise" sounds like it might have escaped from a Barenaked Ladies album.
One criticism I have with The Compass Rose as a backing band might be that– at least on the album– the beatboxing isn't featured enough to be a key part of any of the songs and the beats could just as easily been accomplished with a drum machine. In my opinion if you're going to use  "vocal percussion" you should showcase it. Where are the Fat Boys-style breaks? On "What Holds You Down" the beatboxing really limits what could have been a song that builds to a driving rhythm. The intro has a stripped down guitar and vocals and you get a sense of building energy up to :58 and damn if I didn't want a fill and a driving backbeat for the rest of the song, but it doesn't deliver that promise.
I think that And The World Makes Sense Again shows the potential of what Droho can achieve as a musician and songwriter. This album has some strong songs on it that I bet really sound great in a live setting. The album falls short in some respects, but that doesn't diminish the fact that I think he's a strong songwriter and one I'll be keeping an eye on.
Mike Droho and the Compass Rose will be recording a session with Iowa Public Radio's Java Blend radio show with host Ben Kieffer today. This show is slated to air on the weekend of 6/18. After that show, they will be playing at Gabe's Oasis tonight. The show starts at 9:30PM and tickets are $7.
Click Here for the Facebook Invite for Mike Droho at Gabe's Oasis Friday Night
Click Here to visit Mike Droho's MySpace Page
Click Here to visit Mike Droho and the Compass Rose Facebook Fan Page
Click Here to visit Mike Droho's Website