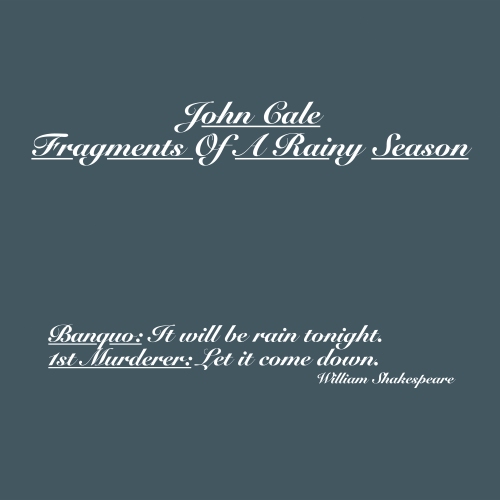 For me, the early Nineties sent Leonard Cohen crashing into my consciousness thanks to a couple of covers and a couple of soundtrack appearances. The Cohen song "Everybody Knows" was featured prominently in the 1990 Christian Slater film "Pump Up The Volume" both as the original Cohen version as well as the Concrete Blonde cover version. In 1991 we were treated to another in that very 1990's tradition of tribute albums– this time the I'm Your Fan album, which I bought as a completist of the R.E.M. catalog due to their cover of "First We Take Manhattan." Other notable covers on that soundtrack were "I Can't Forget" by The Pixies and Lloyd Cole's cover of "Chelsea Hotel." But, the cover on here that would launch a million others was the album closer "Hallelujah" done by John Cale as a stripped down midtempo piano and vocal. According to an episode of Malcolm Gladwell's podcast Revisionist History, Cale heard Cohen do the song live and was moved to cover it himself. When Cale asked Cohen for the lyrics, he was faxed fifteen pages of lyrics. Cale edits the song into the version that is best known. From the podcast, "Cale says, that for his version, he took the "cheeky" parts. He ends up using the first two verses of the original combined with three verses from the live performance. And Cale changes some words – most importantly, he changes the theme and brings back the biblical references that Cohen had in the album version."
This is the version that Jeff Buckley heard and was moved to cover for his debut album Grace, which is pretty much the gold standard as far as "Hallelujah" versions go.
Getting back to Cale's version, it would also make an appearance on his 1992 live album Fragments of a Rainy Season, described by Trouser Press as an "auto-retrospective" of Cale's career made up of solo performances from his 1992 tour. I happened to hear it being played in a record store in Dubuque and bought it on the spot. I was a fan of the Eno/Cale record from 1990 Wrong Way Up, (from which the version of "Cordoba" on this album comes), so I saw this release as complimentary to that. It's an album I played a lot and still dig out on occasion. It's a good distilling of Cale's solo career in that he experimented a lot with sound over the years, so a compilation of his studio work to me would be uneven at best, and in the minimal solo acoustic setting, the vocals and lyrics really shine. Admittedly, Cale's piano playing is rudamentary, and his use of repeating pedal notes can be a bit grating, but the energy and emotion Cale brought to those performances draws the attention away from that and still ranks as one of my desert-island discs.
So, it's with a certain sad coincidence that Fragments of a Rainy Season is getting the much-deserved reissue in light of the passing of Leonard Cohen last week. Domino Records is handling the expanded-reissue on CD, download and either a 2 LP or 3 LP reissue. The 3-LP version adds alternate versions of some of the songs with strings and a Velvet Underground song "Waiting for the Man." The 2-LP version has the same songs as the original 1992 album, but re-sequenced.
The 1992 CD version of Fragments of a Rainy Season kicks off with five performances that, for me really set up the energy of the album: "A Child's Christmas In Wales," "Dying On The Vine," "Cordoba," "Darling I Need You" and "Paris 1919." For the upcoming expanded reissue of Fragments on Domino Records the track sequence of the album is dramatically changed up for an unknown reason, and as someone who listens to the album a lot, it's jarring. But, not so much that it detracts, and in initial listens for me seems to also set the performances up. The album proper (not including the bonus tracks) still ends with "Hallelujah" appropriately.

I'm looking forward to having Fragments of a Rainy Season available in vinyl so I can play it in my living room along with other essential records in my collection. The version of "A Child's Christmas in Wales" on Fragments kind of makes it a Christmas-y album a little. The song is a musical interpretation of the Dylan Thomas poem that was originally on his 1989 album of Thomas works Words for the Dying which was produced by Brian Eno.
Limited to one pressing, Fragments of A Rainy Season will be released on triple gatefold 12" vinyl featuring an LP of 8 previously unreleased tracks.On Heavyweight Vinyl With Download Card
DISC 01
Side A
01. A Wedding Anniversary (Live)
02. Lie Still, Sleep Becalmed (Live)
03. Do Not Go Gentle Into That Good Night (Live)
04. Cordoba (Live)
05. Buffalo Ballet (Live)
Side B
06. Child's Christmas In Wales (Live)
07. Darling I Need You (Live)
08. Guts (Live)
09. Ship Of Fools (Live)
10. Leaving It Up To You (Live)
DISC 02
Side C
11. The Ballad Of Cable Hogue (Live)
12. Chinese Envoy (Live)
13. Dying On The Vine (Live)
14. Fear (Is A Man's Best Friend) (Live)
15. Heartbreak Hotel (Live)
Side D
16. Style It Takes (Live)
17. Paris 1919 (Live)
18. (I Keep A) Close Watch (Live)
19. Thoughtless Kind (Live)
20. Hallelujah (Live)
DISC 03
Side E
21. Fear (Previously Unreleased)
22. Amsterdam (Previously Unreleased)
23. Broken Hearts (Previously Unreleased)
24. Waiting For The Man (Previously Unreleased)
DISC 04
Side F
25. Heartbreak (Previously Unreleased)
26. Fear (Previously Unreleased)
27. Paris 1919 (Previously Unreleased)
28. Antarctica (Previously Unreleased)
Pre-order Fragments of a Rainy Season:
Limited edition triple gatefold 12" vinyl from Domino Mart — http://smarturl.it/FragmentsReissue
Standard double 12" vinyl from Domino Mart — http://smarturl.it/Fragments2LP
Double CD — http://smarturl.it/FragmentsReissue
Digitally — http://smarturl.it/FragmentsDownload