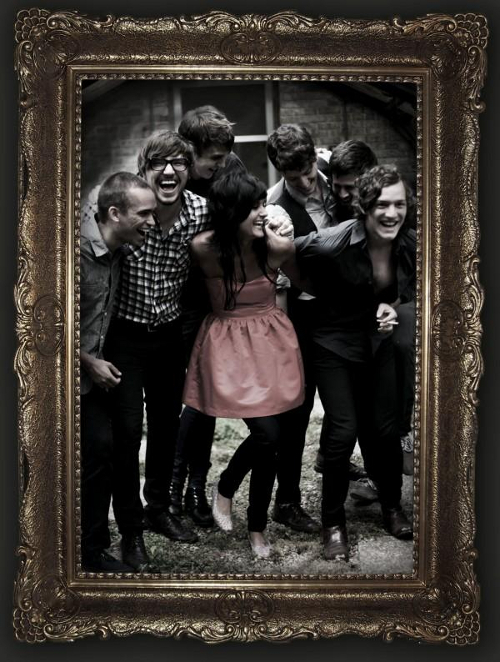 Growing up in Bellevue, IA there was a local family band with generations of members called the Sieverding Band. This band– as you might expect– was made up of a bunch of guys with the last name Sieverding.  They played the Catholic parish barbeque every year– and still do– and performed the polka mass as well. They are an institution, really.
The Kopecky Family Band is a band I hadn't heard of before this week when their PR folks reached out to me. A group of seven from Nashville, they aren't actually all related, but the idea of a tight-knit group of musicians being a family– sharing space and the closeness of working together– is one that clearly ties the members of the Kopecky Family Band together. In an interview with spinner.com from March of this year before they played SXSW, they talk about how Kelsey (the one member who is actually a "Kopecky") gives the band members their per diem money in a hand-decorated envelope with an encouraging message before the tour. She's also the person responsible for morning wakeup text messages with an inspirational quote or joke. Clearly, she has taken her role as the "mom" of this family band!
Disaster is the name of the new EP from the Kopecky Family Band and it was released on August 3rd. The band helpfully provides a streaming version of the album from their bandcamp page (below).
Some comparisons have been made to Arcade Fire by reviewers, and I think that is a pretty good place to start with Kopecky Family Band. I think that the anthemic style as well as their classical bent– strings and horns helps with that. My wife also said that the harmonies also reminded her a bit of Local Natives. But, you can listen for yourself:
The band has also made their previous EP Embraces available as a free download through bandcamp:
While the Kopecky Family Band won't playing parish picnics or performing polka services at your local church, the will be playing at The Mill Restaurant in Iowa City on Thursday Night at 9PM. This is a 21+ show and the cover is $6. Evan P. Donahue will open.
Click Here for the Kopecky Family Band website
Click Here for the Kopecky Family Band MySpace Page
Click Here for the Kopecky Family Band Facebook Page