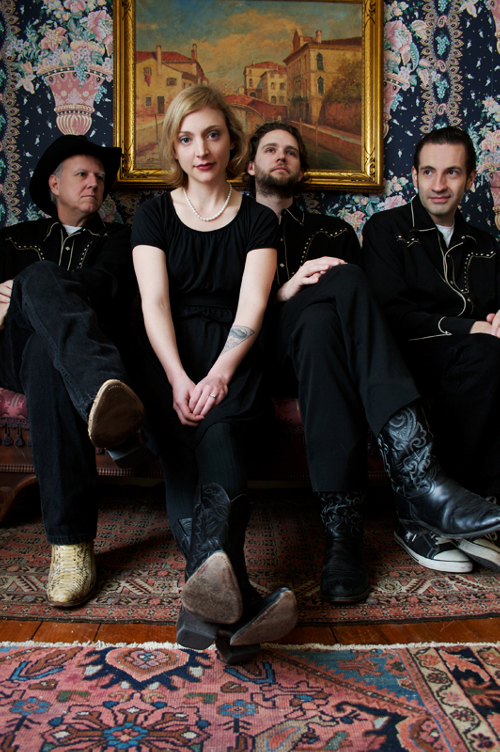 Eilen Jewell's music has been compared to Lucinda Williams, Dusty in Memphis and Peggy Lee. Certainly her fusion of rockabilly, 60's twangy folk rock and vintage country swing draws those comparison's quickly. To my ears she draws a favorable female comparison of Chris Isaak's Silvertone years, or Reclines-era k.d. lang.
In addition to Eilen's satisfyingly bluesy vocals, it's the timewarp guitars on Eilen's new album Sea of Tears provided by Jerry Miller that completes it's classic sound. From beginning to end I'm reminded of the music that my parents loved– Roy Orbison, the Everly Brothers and Ricky Nelson– all acts that influenced my love of Chris Isaak, I.R.S.-years R.E.M., Tom Petty and pretty much any band that runs clean electric guitars through a Fender Twin.
Eilen's and her band are bringing the twang and reverb to  Cedar Rapids on Monday, June 1st at CSPS. I can't think of a better venue with the big stage that should give the appropriate room for those guitar chords to ring out. You don't want to miss an opportunity to hear this band and at $10 it's a deal ($12 at the door).
Click Here to visit Eilen Jewell's website
Click Here to visit Eilen Jewell's MySpace Page
Click Here to download "Rain Roll In" from Eilen Jewell's new album Sea of Tears.
Click Here to visit the LegionArts page on the show and how to get tickets
Here is the title track "Sea of Tears" live