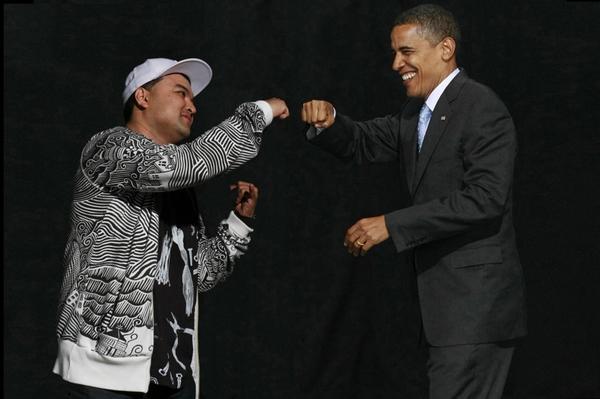 Barack Obama-BFF Lyrics Born has released the next single from his sophomore solo album Everywhere At Once. "Whispers" –an unexpectedly somber track from the man who brought us such bumpin' slices of funky pie as "Callin' Out" and Everywhere's first single "I Like It, I Love It"– is a slow, stripped-to-the-bass Isaak Hayes-style track.
"Whispers" was written by LB inspired by hearing the news of the passing of his longtime friend Benjamin "Mack B. Dog" Davis. I wasn't familiar with B. Dog other than his participation in the Quannum Spectrum project where he provided the inter-song "skits" of a late-night DJ. The song provides the soulful vocals of Codany Holiday aka "C-Holiday." You might be familiar with C-Holiday from his participation in the controversial Rainydayz Remixes done by AmpLive. Click Here to download this fantastic mix.
Stay tuned for a video of this song as well. The generous folks in the LB camp have granted permission to post "Whispers" for download, but do yourself a favor and buy Everywhere At Once it's one of the great hip hop albums– LB does a great job of bringing all of his influences to this record.
Click Here to download "Whispers"