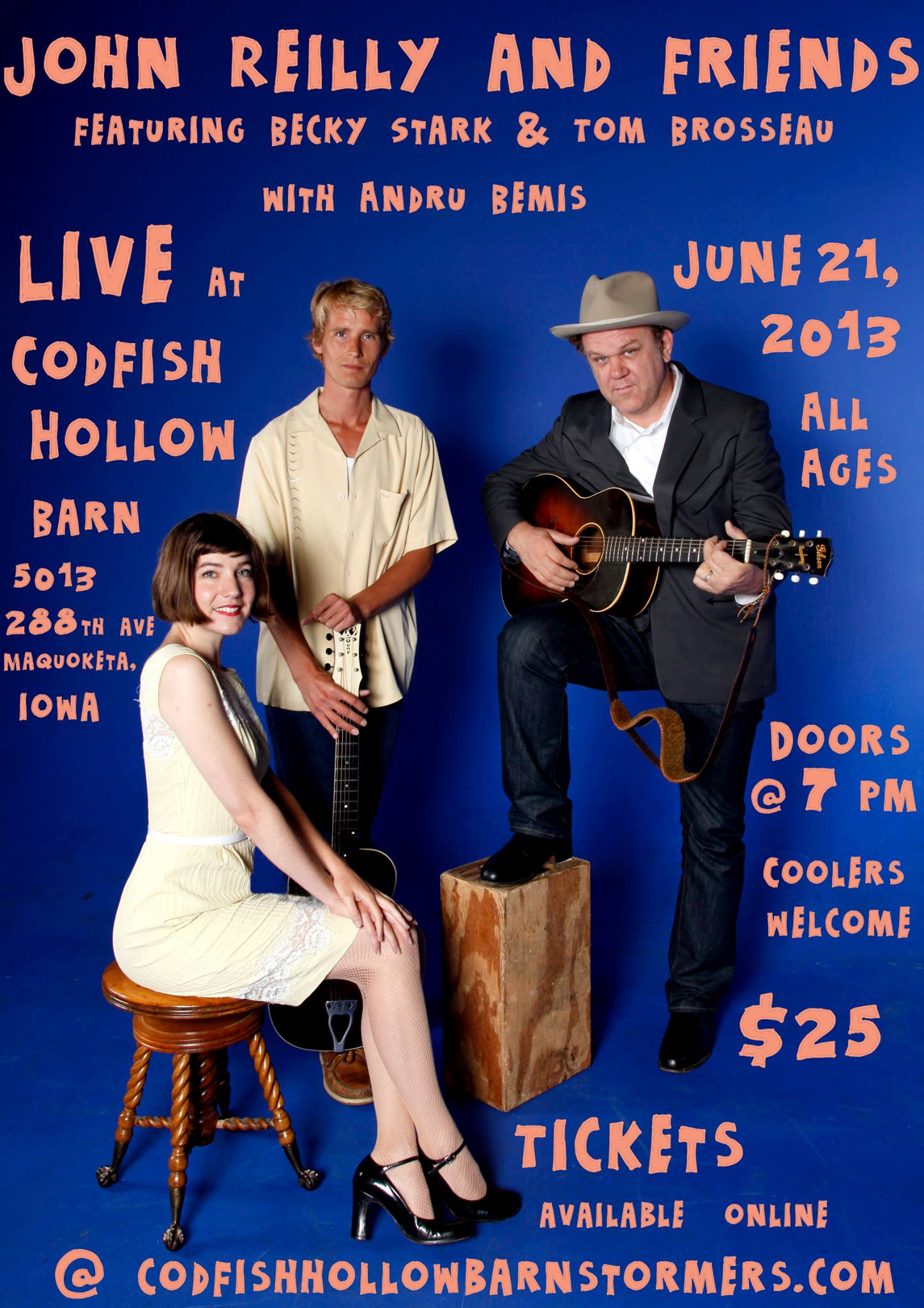 Continuing the trend of jaw-droppingly awesome shows at Codfish Hollow Barn in Maquoketa, this Friday, June 21st,  it will play host to actor John C. Reilly's non-film music endeavor John Reilly and Friends.
For the past few years Reilly has been working with some musician friends of his to bring a revue of old country and folk music  of the likes of the Stanley Brothers, Porter Wagoner and Dolly Parton, The Everly Brothers, Claude Ely and the Delmore Brothers to name a few. With regular "Friends" sidekicks Becky Stark of Lavender Diamond and Tom Brosseau (solo and of Les Shelleys) Reilly cut two 7-inch singles on Jack White's Third Man Records.
The band is doing a run of dates through the Midwest from June 13th to June 22nd, with a stop at the wonderful Codfish Hollow Barn in Maquoketa, IA– home of many Daytrotter.com Barnstormer shows as well as a few shows put on by the Biehls themselves. Joining Reilly, Stark and Brosseau will be Mt. Vernon, IA native Dan Bern (who headlined his own show in May), Willie Watson— formerly of Old Crow Medicine Show (OCMS's "Wagon Wheel" has been covered by Darius Rucker and climbing the charts currently), and Sebastian Steinburg– formerly of Soul Coughing and these days a go-to bass sideman (Marc Ribot, Dixie Chicks, k. d. lang). That' s one hell of a lineup with lots of varing backgrounds, so you can count on some pretty inspired performances!
According to Brosseau's website, there will be copies of the Third Man Records 7-inches as well as "the official John Reilly and Friends teeshirt" at the merchandise table. Tiffany Biehl also told me about exclusive stickers with art done by Dan Bern and limited-edition posters done by the Biehl's and sent me images of those:
Opening the show will be Andru Bemis from New Mexico.
As usual, there will be camping available (with no service hookups), food vendors with soft beverages and just good old fashioned great times with other people who are there for the music. Coolers are welcome. Here is a list of what food will be available onsite:
Grilled chicken sandwiches
BBQ pulled pork sandwiches
All beef hotdogs
Brats and sauerkraut
Veggie dogs/brats
Nachos and cheese
Beef taco nachos
Chicken/pork nachos
Vegetarian bean nachos
Chips
Candy bars
POP- Mt.Dew Pepsi, Diet Pepsi,Sprite
Water
YUM!
At the time of this writing there are still tickets left, but you should expect that this show will sell out this week. Doors are at 6:30PM with the bands hitting the stage at 8PM. The tickets are $25 in advance (plus some minimal service charges).
Click Here for the Facebook Event and RSVP!
Click http://johnreillyandfriends.eventbrite.com/ to order your tickets!
I was interviewed in The Cedar Rapids Gazette Arts and Entertainment magazine Hoopla– click here!
Click Here to visit the Third Man Records page on John C. Reilly and purchase his two singles.
Tour Dates:
15 June 13: The Assembly at the Women's Club of Minneapolis: Minneapolis
16 June 13: Miller Caves: Milwaukee
17 June 13: Muskegon Unity Church: Muskegon MI
18 June 13: Ramsdell Theater: Manistee MI
19 June 13: The Magic Bag: Ferndale MI
20 June 13: Radio Radio: Indianapolis
21 June 13: Codfish Hollow Barnstormers: Maquoketa
22 June 13: Old Town School of Folk: Chicago