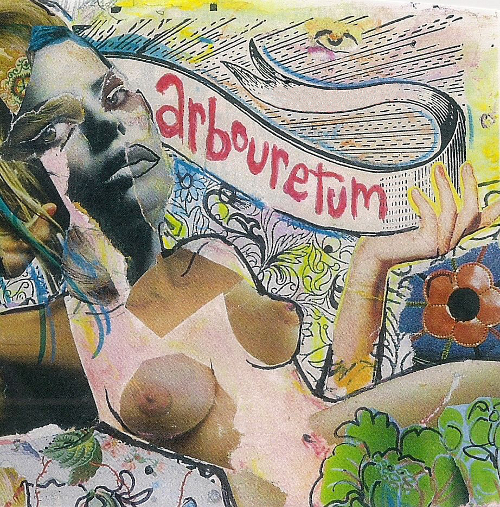 It was a happy surprise for me this week to find out that Arbouretum released a new recording! Part of the burgeoning Baltimore Indie scene which seems to favor sludgy guitar tone, Arbouretum is singer/songwriter/guitarist David Heumann with a rotating cast of supporting characters. Arbouretum has been on Thrill Jockey for the last three releases (2007's Rites of Uncovering, 2008's split with Pontiak Kale, and 2009's Song of the Pearl).
On April 10th Arbouretum and another Baltimore duo The Expotentials played a gig at a secret venue known only as The Granfaloon. For this show, Arbouretum trotted out the over-51-minute composition that makes up the new CD/download and second release from Aural Slate— the house label for the Baltimore/D.C.-scenester blog Aural States, which I discovered about the same time I found out about Arbouretum. Aural States is worth following and it is a dream of mine to run a boutique label, so I'm watching Greg Szeto's progress in this space closely– he's off to a good start with his second release Couldn't Hit It Sideways by Arbouretum. Couldn't Hit It Sideways is 51-minutes of churning, chugging improvisation and exploration of a simple and familiar chord progression. To many the concept of this recording might seem tedious and repetitive– and certainly I wouldn't recommend this as a first exposure to Arbouretum as it doesn't showcase the strong vocals and lyrics from Heumann. However, even with the 5-minute sample that is provided one can see how Heumann creates and tears down guitar lines– subtle changes that roll over the constant rhythm anchored by the bass and drums laid down by Corey Allender and JV Brian Carey.
The physical CDR will be available at the live shows Arbouretum is doing this Spring (some with Pontiak!), but you can get either 320Kbps mp3 or FLAC (yay!) for $5 from Aural Slate.
Click Here to getcha some Arbouretum!
In other Arbouretum news, the blog Bmore Musically Informed has an mp3 download of Arbouretum's show from the G Spot on 1/29/10. The show features a great selection of Arbouretum tracks and closes with an astounding version of Neil Young's "When You Dance I Can Really Love" joined by Wye Oak!
Click Here to see pix and the link to download that show!