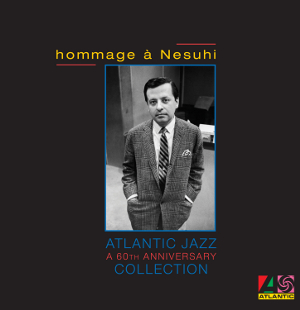 Nesuhi Ertegun was the younger brother to Altantic Records label founder Ahmet and from 1955-1967 was the VP of the Jazz division of that label. The always-fantastic Rhino Handmade is releasing Hommage A Nesuhi on December 15th– a 5 CD Boxed Set compilation of essential tracks recorded by artists that Nesuhi signed and/or recorded for Atlantic during his tenure there. The set will be limited to 3,000 individually numbered copies. When they're gone, they're gone! This set will have a list price of $149.98.
I often forget that Atlantic had Jazz artists. Usually when one thinks of Jazz, labels like Blue Note, Prestige, Fantasy, Riverside, Verve and Columbia come to mind. I tend to associate Atlantic with Rock and R&B, but one look at this list of acts and it's obvious that Nesuhi drew some big talent to the label during his time there (and some from the aforementioned labels!)– Milt Jackson, The Modern Jazz Quartet, Coltrane, Ornette Coleman, Charles Mingus and others.
The first and last discs of the collection feature artists that Ertegun signed to Atlantic. The second disc "Shades of Blue" focuses on his Blues influence on the label during his career there and includes tracks he produced for Ray Charles, Big Joe Turner, LaVern Baker and Hank Crawford. The Live disc provides Ertegun-period performances by the Atlantic stable of Jazz and Blues artists. The One the Edge disc shows the groundbreaking Jazz influence Atlantic provided during Ertegun's time at the helm. While this isn't a collection of rare or previously unreleased tracks in the Atlantic catalog, it is a nice collection with a broad stroke capturing Ertegun's influence and work for the label.
On a bittersweet note, this was the last project that producer Joel Dorn worked on. Joel was the protege of Ertegun and went on to produce Roberta Flack, Les McCann, Rahsaan Roland Kirk, Yusef Lateef and many others. He passed away just days after finishing it.
HOMMAGE À NESUHI
Track Listing
Some Atlantic Jazz
1. "Hard Times" – David "Fathead" Newman
2. "Summertime" – The Modern Jazz Quartet
3. "Stay With Me" – Yusef Lateef
4. "Listen Here" – Eddie Harris
5. "With These Hands" – Les McCann
6. "Sweet Sixteen Bars" – Ray Charles
7. "Your Mind Is On Vacation" – Mose Allison
8. "Martians Go Home" – Shorty Rogers & His Giants
9. I Miss You So" – Chris Connor
10. "The Golden Striker" – The Modern Jazz Quartet
11. "A Ladiesman" – Oscar Brown, Jr.
12. CMemphis Underground" – Herbie Mann
13. "Come Rain Or Come Shine" – Ray Charles
Shades Of Blue
1. "Cherry Red" – Big Joe Turner
2. "Doodlin'" – Ray Charles
3. "Deuces Wild" – Sonny Stitt
4. "Am I Blue" – Ray Charles
5. "In The Evening" – Yusef Lateef
6. "Empty Bed Blues" – LaVern Baker
7. "The Entertainer (Done In The Style Of The Blues)" – Rahsaan Roland Kirk
8. "What Will I Tell My Heart" – Hank Crawford
9. "Stop This World" – Mose Allison
10. "Cousin Mary" – John Coltrane
11. "I Wish You Love" – David "Fathead" Newman
12. "Oh Lord Don't Let Them Drop That Atomic Bomb On Me" – Charles Mingus
13. "Like It Is" – Yusef Lateef
14. "Blues #3/Willow Weep For Me" – Ray Bryant
Live
1. "I've Got A Woman" – Ray Charles
2. "Bluesology" – The Modern Jazz Quartet
3. "After Hours" 0 Ray Bryant
4. "Comin' Home Baby" – Herbie Mann
5. "If I Loved You" – Rahsaan Roland Kirk
6. "The Catbird Seat" – The Mitchell-Ruff Trio
7. "Compared To What" – Les McCann & Eddie Harris
8. "I'm Having Fun" – King Curtis & Champion Jack Dupree
9. "One Ton" – Rahsaan Roland Kirk
10. "Drown In My Own Tears" – Ray Charles
On The Edge
1. "Giant Steps" – John Coltrane
2. "Silver Cycles" – Eddie Harris
3. "My Favorite Things" – John Coltrane
4. "Ramblin'" – Ornette Coleman
5. "Vibrafinger" – Gary Burton
6. "Una Muy Bonita" – Ornette Coleman
7. "Hog Callin' Blues" – Charles Mingus
8. "The Inflated Tear" – Roland Kirk
9. "Passions Of A Man" – Charles Mingus
10. "Day By Day" – Jimmy Scott
11. "In A Little Spanish Town (T'was On A Night Like This)" – Yusef Lateef
Some More Atlantic Jazz
1. "The Spirit-Feel" – Milt Jackson
2. "Love Theme From "The Sandpiper" (The Shadow Of Your Smile)" – Eddie Harris
3. "One No te Samba" – The Modern Jazz Quartet with Laurindo Almeida
4. "Naima" – John Coltrane
5. "Nubian Lady" – Yusef Lateef
6. "The Soul Of A Village – Part II" – Joe Zawinul
7. "Ain't No Sunshine" – Rahsaan Roland Kirk
8. "Let Her Go" – Hubert Laws
9. "Sombrero Sam" – The Charles Lloyd Quartet
10. "The Story" – Hank Crawford
11. "Barbados" – Phineas Newborn, Jr.
12. "Nommo" – Max Roach
13. "Equinox" – John Coltrane