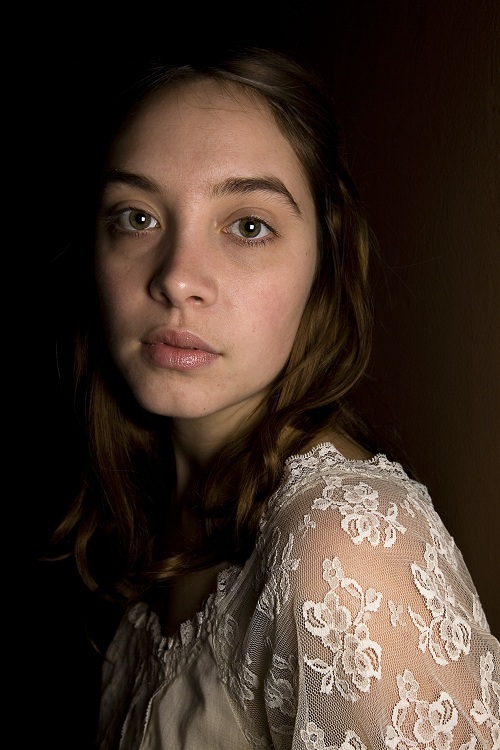 If you haven't heard of Cheyenne Mize before it is probably because her work tended not to be in the forefront of the bands she was in– at least not until recently. Hailing from Louisville, Cheyenne has been firmly entrenched in the folkie scene there. Supporting bands and artists like Arnett Hollow, Maiden Radio, Ben Sollee, Saredren Wells, Thomas A. Minor and the Picket Line, Joe Manning, The Health & Happiness Family Gospel Band, Ben Sollee & Daniel Martin Moore touring band for Dear Companion. (Thanks to Question the Pop interview with Cheyenne for that list).
Last year Cheyenne partnered with Louisville's reknowned son, Bonnie "Prince" Billy aka Will Oldham on an EP of duets titled Among the Gold. Among the Gold is a collection of late-nineteenth and early-twentieth century standards like "Beautiful Dreamer" and "Let Me Call You Sweetheart." Louisville indie label Karate Body pressed an insanely-limited edition (250 copies) 10″ colored vinyl pressing of it and only made it available at shows and at their online store. It is available for digital download from Cheyenne's Bandcamp Page. The EP certainly demonstrated Cheyenne's talents and beautiful soprano but really didn't show her songwriting abilities. Cheyenne will be releasing her first solo record titled Before Lately on September 28th and it will be on another Louisville label sonaBLAST! Records.
Where Among the Gold was steeped in the old-time standards it was made of, Before Lately is more contemporary mix of ingredients. The album is drifting and dreamy– introspective, really.  The album is a very stripped-down affair with very little percussion and utilizes all of Cheyenne's talents: vocals, violin, guitar and piano. The songs move between ethereal shoegazer-ish production on tracks like "Path" and "Lull" and more direct singer-songwriter style tracks like on "Doctor" and "Not." Before Lately made an impression on me right away and tugs my disappointment that it isn't available right now!
Cheyenne is currently on tour and will be making a stop in Iowa City on Thursday 7/29 at The Mill Restaurant opening for Portland, OR band Archeology. This will be the late show, which starts at 10PM and is a 21+ show. Tickets are $6. I'll be interested to hear how these songs translate to the stage. You can listen to the whole album via this nifty player:
Here is "With(out)" from Before Lately.
With(out) by CrashAvenue
Cheyenne Marie Mize on Tour:
Sat Jul 24 – The Denver Post Underground Music Showcase – Denver, CO
Sun Jul 25 – The Denver Post Underground Music Showcase – Denver, CO
Tue Jul 27 – Czar Bar – Kansas City, MO
Wed Jul 28 – Vaudeville Mews – Des Moines, IA
Thu Jul 29 – The Mill – Iowa City, IA
Fri Jul 30 – Uncommon Ground on Clark – Chicago, IL
Sat Jul 31 – White Rabbit Cabaret – Indianapolis, IN
Click Here for Cheyenne Marie Mize's website
Click Here for Cheyenne Marie Mize's MySpace Page
Click Here for Cheyenne Marie Mize's Facebook Fanpage
Click Here for Cheyenne Marie Mize's page at sonaBLAST!
Click Here for Cheyenne Marie Mize's Bandcamp Page where you can listen to Among the Gold and Before Lately.