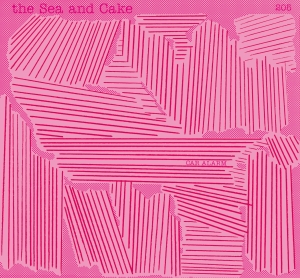 The Sea and Cake, while considered one of the key bands on Thrill Jockey, is also a side project for most of its members, which is why last week's announcement of a NEW album on the heels of last year's brilliant Everybody is such a surprise. The gap between 2003's One Bedroom and the Glass EP and Everybody was four years. In between we got a new Tortoise, new solo Sam Prekop, and new solo Archer Prewitt.
This time for their seventh full-length album Car Alarm, the band wanted to continue the momentum and, I assume tightness gained while the band did its extensive touring following Everybody. In fact, it was likely this condition of the band that allowed them to write and record this album in a record-setting (for the band) three months.
I still find myself listening to Everybody regularly, and my wife likes it as well, so I'm pretty excited to hear what the band delivers for this release given the unique approach. After seeing the band for the first time during the Thrill Jockey 15th Anniversary shows, I've committed to seeing the band on tour again, so I hope we get another extensive tour.
Tracklist:
01. Aerial
02. a Fuller Moon
03. on a Letter
04. CMS Sequence
05. Car Alarm
06. Weekend
07. New Schools
08. Window Sills
09. Down in the City
10. Pages
11. the Staircase
12. Mirrors